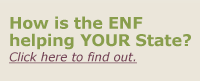 ---
"This scholarship will be of great help to me in paying my educational expenses, and it will allow me to concentrate more of my time for studying. I am not only thankful for the financial assistance, but also the fact that I came from the Elks organization. My father and brother are both Elks, and so were my grandfather and great-grandfather. The Elks organization has always played a role in my family and I have been able to not only see but take part in their amazing service projects."

Alexandria Evans, Scholar

2015-16 Gratitude Grant Final Report Forms Due August 31

Click here

to download an editable copy of the 2015-16 Gratitude Grant Final Report Form.

Gratitude Grants offer an opportunity for Elks to think about how best to serve their community and make it stronger. Gratitude Grants are the ENF's way of saying thank you to every Lodge that meets the National President's per-member goal for giving to the ENF. Last year, more than 77 percent of Lodges met the per-member goal for giving to the ENF, so start planning your grant today! The possibilities are endless!
---
"The response to our Lodge's grant project is overwhelming. People now know that we do good things for the community. Because of this, we have an increase in membership."

- Mike Mongelluzzo
Project Manager at
Ocala, Fla., Lodge No. 286
---
Gratitude Grants can be used to support local, charitable activities. Lodges use Gratitude Grants to do things like buy supplies for a homeless shelter, partner with D.A.R.E. to hold drug awareness programs in schools, or hold recreational events for people with disabilities.
Though donations do qualify, we encourage your Lodge to consider using its Gratitude Grant in an active way. We want you to serve your communities in ways that will raise the Lodge's profile, energize the membership, encourage former members to return to the fold, and gain the notice of people who want to be part of an organization that's doing big things.
Here's a look at projects Lodges have applied for, and ways to make that project more active.
| | |
| --- | --- |
| Good for Them | Better for You |
| Donation to Food Bank | Have a food drive, and serve a meal to families in need |
| Donation to six youth groups | Hold monthly drug-free youth activities |
| Donation to restore city building | Partner with students to hold a community clean-up day |
| Donation to Veterans group | Volunteer at a Stand Down, or reach out to veterans in need |
| Purchase equipment for Fire Dept. and Police Dept. | Partner with both groups on a Community Safety Day |
For more project examples, visit the
Great Gratitude Grant Examples
page.
To encourage active projects, each Lodge that applies to use the Gratitude Grant for a donation will receive a follow-up email from the ENF asking the Lodge to consider more active ways to serve the community. Please read the entire email, and contact the ENF with any questions.
The Elks' Turn to Serve
If your Lodge is using a Gratitude Grant to serve veterans and military members in need, it must focus on one of these five areas of increased need.
Employment
Homelessness and Housing
Military Families
Health
Educational Support
Visit our veterans webpage for more information.
ENF Grants should always be used for charitable purposes. Keep the following six broad categories (defined as charitable by the IRS) in mind when planning a grant project; relieve the poor, distressed or underprivileged; advance education or science, but not through scholarships; lessen the burdens of government; lessen neighborhood tensions; eliminate prejudice and discrimination; combat juvenile delinquency.

2015-16 Dates: Applications for 2015-16 Gratitude Grants become available online to qualifying Lodges July 1, 2015. Applications must be submitted before the project takes place. Applications close May 31, 2016. Funds must be spent by July 31, 2016. Final Report Forms are due August 31, 2016.

NEW in 2015-16: Every Lodge in which more than 15 percent of its members donated to the ENF in 2014-15 will be eligible for a bonus of $500 when it applies for a Gratitude Grant. This bonus will be automatically added to your Lodge's Gratitude Grant application.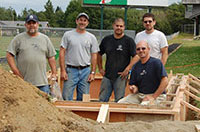 How to Apply: The Lodge Secretary or ENF Grants Coordinator is able to process, complete and submit the online application. For detailed instructions on the application process, click here. To find out your Lodge's per-capita standing, click here.*
Restrictions: Gratitude Grants must be used for local, charitable projects. They cannot be used to donate to a national organization or to a State Major Project. They also many not be used to rent or repair Lodge buildings or only to benefit Lodge members. Grants cannot be used to fund scholarships, Hoop Shoot events, youth awards ceremonies, poster and/or essay contests, appreciation dinners, general community events, or fundraisers.
Process: Upon approval of a Lodge's online application, the ENF will mail the Lodge an approval letter, a grant check and a Final Report form to the Lodge address. A Lodge can use its Gratitude Grant in conjunction with a Beacon Grant and/or a Promise Grant. Applications must be submitted separately.

Final Report Forms: After the grant has been used, mail in the Final Report Form, along with all grant-related receipts and photos. Lodges that do not complete this required form will not be eligible for any ENF grants the following year.
Click here to download an editable copy of the 2015-16 Gratitude Grant Final Report Form.
*In the event of a Lodge merger, the newly formed Lodge must meet the per-capita goal for the current Elk year under the new (merged) membership total to qualify for this grant. Lodges that qualify and apply for Gratitude Grants prior to the Lodge merger will not be penalized.