Read the latest on the Community Investments Program!
Piloting toward the Possible Jan 31, 2018
Tawas Area, Mich., Lodge No. 2525, is helping students at the Alternative Education Academy (AEA) of Iosco County a charter school reach their potential using an Impact Grant. Read how here.
Gone (Fly) Fishing Jan 25, 2018
To help veterans experiencing post-traumatic stress disorder, Moscow, Idaho, Lodge No. 249 used an Impact Grant to teach a lifelong skill that will help curb the symptoms of PTSD. Can you guess what it is?
Gratitude Grants Galore! Jan 15, 2018
Is your Lodge interested in applying for a Gratitude Grant but unsure where to start? Watch this webinar for a step-by-step walk-through of a real application along with a few examples of great projects. Don't delay, applications are due May 31!
Fulfilling the Need to Read Jan 2, 2018
Laughlin, Nev., Lodge No. 2872 is one of only 77 Lodges to receive a 2018 Impact Grant. The Lodge's children's literacy project, in year three, is thriving—read to find out why!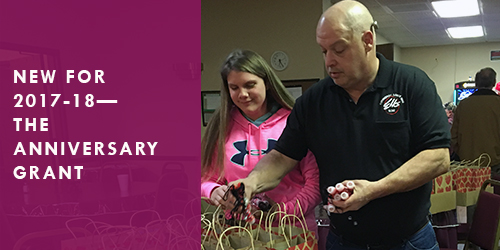 ---
Back to top