As the temperatures drop at the beginning of winter, you grab your coat and hat. The kickoff of football season calls for jerseys and foam fingers. It's the start of the Elks National Foundation's 2013-14 grant season, and the only gear you'll need is a charitable heart and the motivation to build stronger communities.
Gear up to serve your community this year! See how Lodges used Community Investments Program grants in 2012-13 to help others in need.
Beacon Bowling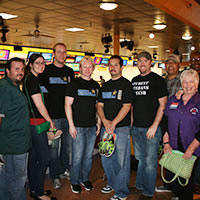 Santa Barbara, Calif., Lodge No. 613 used a Beacon Grant to hold bowling days for student veterans at a local alley. After the Elks and the vets bowl a few frames, they share lunch, giving the veterans time to talk and connect with the Elks and each other. These events help the young veterans transition back into civilian life by getting involved with others in the community.
"Being a student veteran can be very stressful and isolating," says Victor, a veteran who attended a bowling day. "The Elks provided a space where we can connect and let loose. You have done a wonderful service hosting an event that reminds us that we are supported by our community."
Beacon Grants are $2,000 grants that offer Lodges an opportunity to develop an ongoing, charitable, Elks-driven community project. Applications are available online starting July 1, 2013. Click here to find out more about Beacon Grants.
An A+ in Gratitude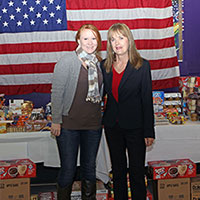 To ensure that all children have enough food to eat over the weekend, Hickory, N.C., Lodge No. 1654 used a Gratitude Grant to partner with a local Backpack Program to pack nutritious meals for students. Elks bought, filled and distributed backpacks to low-income youth at 17 local elementary schools every weekend for the entire school year.
"The Elks provided more than 20,000 meals to hungry children," says Backpack Program Coordinator Amanda Freeland. "Thank you for your partnership in our mission to end local childhood hunger."
Gratitude Grants are $2,000 grants available to Lodges that meet the National President's per-member-giving goal. These grants should be used to serve community needs. Applications are available online starting July 1, 2013. Read how to help others with a Gratitude Grant.
Creating an Impact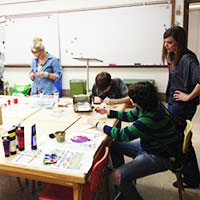 Elks know that creating art can be therapeutic. Using an Impact Grant, Fond du Lac, Wis., Lodge No. 57 started an art studio for at-risk teens. The studio provides a safe setting for teens to utilize their artistic skills and connect with each other. Weekly sessions help troubled teens express themselves through their artwork.
"Many of our young artists come from negative and dysfunctional homes," says Project Manager Scott Reath. "Providing them with a safe space fosters inspiration, creativity and improved self-esteem."
Impact Grants are competitive grants of up to $10,000 designed to help Lodges make a visible, significant and ongoing difference in their communities. Applications are available online starting June 17, 2013. Read how to meet local needs with an Impact Grant.
Elks Keep Their Promise
Using a Promise Grant, Clay Center, Kan., Lodge No. 2253 held a Spirit Week for teens with disabilities at the local middle and high schools. The week culminated in a party at the Lodge for the students and their friends and families. Elks handed out prizes as their guests played games, took photos in the photo booth, danced, and sang karaoke. The students left the party with armfuls of prizes, knowing they had the support of the Elks.
"Elks worked with many local students to make Spirit Week a success," says Project Manager Patricia Halstead. "The event demonstrated a positive image of the Elks, while also focusing on students in need in our community."
Promise Grants are $2,000 grants available to the first 500 Lodges that apply to hold an eligible youth event. Applications are available online starting July 1, 2013. These grants go quickly! Click here to learn how Promise Grants help Elks engage with local youth.
Are you geared up and ready to continue building stronger communities with ENF grants this year? Click here to learn more about the Community Investments Program.
The Elks National Foundation will help Lodges meet local needs by investing up to $8.5 million this year in Elks communities through Beacon, Gratitude, Promise and Impact Grants. These grants offer Lodges opportunities to serve the community in ways that will raise the Lodge's profile, energize the membership, encourage former members to return to the fold, and gain the notice of people who want to be part of an organization that's doing great things. To learn more about the Community Investments Program, please visit www.elks.org/enf/community.