Veterans News
Elks Are Determined to Support Veterans
Elks have continued to support veterans in their communities this year, despite limitations on the types of activities that were possible. The Freedom Grant has enabled Lodges to be flexible and send support from afar to veterans who are isolated or experiencing higher levels of need due to the pandemic.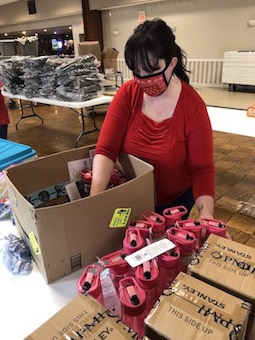 Middletown Lodge No. 1097 used their Freedom Grant to accomplish this in two ways. First, they wanted to create Christmas cheer for veterans who are isolated at the local VA hospitals in Montrose and Castle Point. Because visitors were not allowed this year, Elks sent the party to the veterans by providing Christmas trees, lights, and decorations to transform the hospitals into a surprise winter wonderland.
The Middletown Lodge also regularly works with the Hudson Valley Veteran Task Force to reach veterans experiencing homelessness. Early last year, members converted a space at the Lodge to store winter gear, hygiene items, and snacks so they would always be ready to respond when they receive a referral from the Task Force. Elks used part of their Freedom Grant to stock the pantry.
Having this reliable supply of necessities came in especially handy this year, as needs increased. Now that they have a continuous supply of backpacks, sleeping bags, and sleeping mats on hand, Elks can deliver these items directly to veterans wherever they are.
Another Lodge that made sure veterans didn't miss out on Christmas festivities was Eatonton Lodge No. 2549. Elks put together 240 bags of supplies and gifts for veterans at the Georgia Veterans Home and the Eatonton Health and Rehabilitation Center. Staff members and residents at both facilities appreciated that Elks remembered veterans during the holidays even though visits were not possible.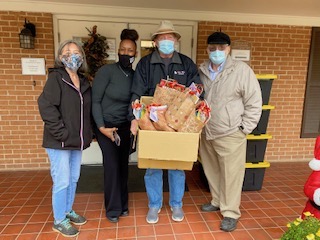 In Cheyenne, Wyoming, Elks from Lodge No. 660 had planned to join the VA for the annual Stand Down, but it was canceled. Instead, Elks reached out to social workers at the VA and learned that winter gear was in short supply among veterans experiencing homelessness. Elks used the Freedom Grant along with donations from the community to provide coats, winter boots, hats, gloves, and dental hygiene kits to veterans in need.
Elks from Brigantine, New Jersey Lodge No. 2428 wanted to alleviate some of the monotony and anxiety of isolation for the residents at Veterans Haven South, a state facility that provides housing, addiction treatment, mental health care, and vocational assistance. No visitors were permitted, so Elks provided food for the veterans to hold their own barbecue cookoff and picnic. The friendly competition and chance to relax while eating together was a much-needed break from routine.
Looking for more COVID-friendly ways to serve veterans? Click here!
---
Back to top