Veterans Leather Program

In 2018-19:
• 17 states collected 19,283 hides.
• 3,460 veterans received free wheelchair gloves.
• 68,000 square feet of leather was donated by Elks to provide free craft kits for recovering veterans.
• 8,378 veterans received craft kits from the Elks.
For many patients in VA hospitals, time can move slowly between visits from family and friends. In addition to holding events and providing friendship to veterans in VA hospitals, Elks also provide the tools for veterans to take up a new skill.
The Veterans Leather Program relies on the charity of hunters across the nation to donate hides so they can be turned into leather used for therapy programs for recovering veterans.
Leather is also used to provide professionally-crafted gloves for veterans in wheelchairs, which are distributed at veterans adaptive sports clinics and gatherings throughout the country. Click here to read more about the sports clinics!
Each year, thousands of Elks step up to help out with this program, offering their time, energy and skills to serve veterans. Their gifts help to create thousands of gloves and therapy kits provided to veterans at no charge.
---
"It's a godsend. These gloves fit perfectly and they're nice and soft — better than any gloves I've had to buy. After you put them on a bit, they fit to your hands. It's very helpful for veterans like me."
– Max Rainey, Vietnam War Veteran
---
Resources for Veterans Leather Program volunteers:
Are you a VAVS Representative interested in ordering gloves or leather? Click here to download the order forms.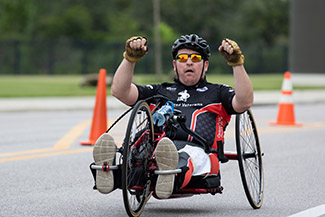 Are you a hunter looking to help out the Elks? Click here to view an instructional guide. Then, contact your local Elks Lodge for drop-off information.

Do you volunteer at a State Veterans Home or independent veterans' facility? Order craft kits for veterans to help with rehabilitation and recovery. Complete this form and submit to it Veterans Leather Chair Dennis McAleese. Please note that these crafts cannot be taken to VA facilities.

Check out other Elks Veterans Programs!

Learn about the Adopt-a-Veteran, Elks VA Voluntary Service and Welcome Home Programs, and Freedom Grants.

Questions? Email Vets@elks.org or call 773/755-4736.
---
Back to top