Veterans Administration Voluntary Service
The Elks Voluntary Service program is the cornerstone of the ENVSC, and the reason so many veterans, VA employees, nonprofit partners and others know about the Elks' commitment to serving veterans.
This facility-based volunteer program is aimed at assisting hospitalized and recovering veterans, as well as any veterans seeking care at veterans' facilities.
We have Elks stationed in hundreds of facilities, ensuring these veterans have the ongoing support they need. Volunteers are required to be certified by the national ENVSC office and undergo training and registration at the local level.
These volunteers, referred to as Representatives and Deputy Representatives, give their time and energy each month to serve these veterans. And each month, the ENVSC provides them with the funds they need to plan social activities, buy needed supplies, hold recreational outings, host meals and offer their time and talents to veterans across the country.
In 2022-23:
• Elks in all 50 states served veterans in more than 375 facilities.
• 665 Elks volunteered as Representatives or Deputy Representatives.
• Elks served thousands of veterans each month.
The Elks Voluntary Service program has the flexibility to adapt to the changing needs of veterans. VA Medical Centers and State Veterans Homes are a primary focus for this program, but we also have Representatives at other facilities such as rehabilitation clinics, housing facilities, and Vets Centers. Wherever veterans and military members need help, Elks serve.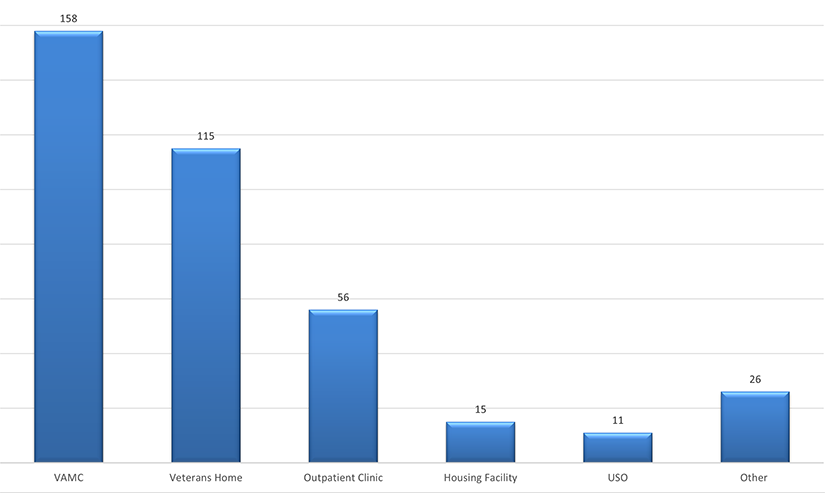 Thanks to the large number of Elks Representatives in VA facilities, the Elks are part of the National Advisory Committee (NAC) for the VA Center for Development and Civic Engagement (CDCE), working together with other service organizations to constantly improve the VA's service to veterans.
Want to get involved?
With your help, this program can continue to grow and more veterans will receive the care they need and deserve.
Just a few hours of your time can make a difference for veterans. View this video of Michigan Elks in action at the Detroit VA Medical Center for inspiration!
To get started, contact the CDCE Chief (formerly VAVS Chief) at your local VA for information about how you can become a certified VA volunteer. Click here to locate your nearest VA facility.
We are always in need of Deputy Representatives to assist our Representatives. Contact us and we'll put you in touch with Voluntary Service volunteers in your area to help get the process started.
How it Works: Once you contact the facility, fill out the volunteer application. Be prepared to discuss the capacity in which you'd like to serve. After a quick TB test, you'll attend orientation and learn about safety and procedures. Then, you're off!
Resources for Voluntary Service Program volunteers:
---
Questions? Email Vets@elks.org or call 773/755-4736.
---
Back to top