Veterans News
Program Shifts and Silver Linings
For many of our volunteers, this November is quieter than usual. No dinners. No visits to the VA. No Stand Downs. Traditional Veterans Day events have been canceled, adapted, and changed. Facilities are restricting access to protect veterans' health. But, there's a way forward.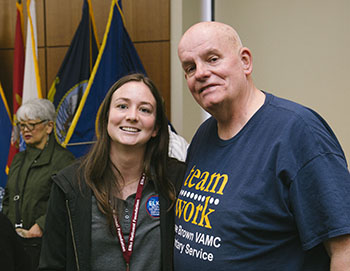 The work continues: it just looks different this year. We talked to Patrick Gleason, the VA Voluntary Service Chief at the Jesse Brown VA Medical Center in Chicago, to see what supporting veterans looks like in the era of COVID-19.
At right, Gleason poses with Elks Scholar Fellow Sancy Childers, at the 2018 Elks Scholar Leadership Weekend.
We started with a callback to mid-March, when his office had to quickly shut down the volunteer program and find a way to serve veterans without all the volunteers they'd come to depend on. For the staff and the volunteers, this was not easy. In fact, Gleason said the number one word for it was "emotional."
He recalls, "We had to inform all our volunteers by mail, by email and by phone, unfortunately telling these folks that they would not be able to come in until further notice. It was very sensitive, and it was very sad because a number of them have been coming in regularly for quite for a long time. This is a huge part of their lives."
It wasn't just hard for the volunteers. The VA staff greatly missed the extra help and the chance to spend time with the volunteers they'd come to depend on and to call friends. There was also the burden on employees having to pick up the work that was normally done by these volunteers, which was no small feat.
"I've never worked so hard to have fewer volunteers," jokes Gleason, whose job in normal times involves rallying as much community support and as many volunteers as possible.
Even during a pandemic, especially during a pandemic, veterans need support. Gleason says right now, the most urgent needs that volunteers can fill are helping with simple, physical things.
Veterans need food. At Jesse Brown and many other facilities, they had to shut down their weekly food pantry for veterans. VA facilities are sending veterans home with small bags of food, usually with instant meals and other shelf-stable items. Donations of these items are very helpful. Veterans are also visiting local food pantries, so supporting them will also serve veterans.
Veterans are missing social interaction. Most of the regularly scheduled activities for veterans are canceled. Send books and games. Arrange movie nights and have pizza delivered. Host Bingo over the PA system. Send baked goods. Set up phone calls or Zoom check-ins with veterans that you normally visit.
Veterans need basic supplies. Times are tough for money people, and donations of some items are down. You can donate hygiene items, socks, underwear, and sweatshirts, and pants. For some, coffee is also considered to be basic supplies.
Veterans are dealing with isolation. For those who live alone and those who miss visiting with volunteers, staff members, and friends on a regular basis, they need to know that someone cares. Consider participating in Cards for Veterans. Write letters or cards for veterans in facilities. Invite your children and grandchildren to help.
Veterans (in Chicago and similar climates) need warm winter clothing. Usually, veterans receive donations like these at events like the annual Winter Veterans Stand Down. This year, the Stand Down can't happen, so veterans have to visit the scaled-down clothes closet at Jesse Brown, and rely on donations from the community.
Coordinate with the staff before moving forward. Guidelines are different in different places, due to local requirements and increases in the virus. A long-term care facility will likely be much more cautious than other types of facilities, and warmer climates may be able to host outdoor events longer than other places.
Be patient. The VA is planning ahead and some volunteer opportunities are open again. The VA has altered its volunteer training to include information about PPE, COVID awareness, and other required precautions. Make your own decisions about what you feel comfortable doing.
Gleason elaborates, "We want all our volunteers to be fully aware of the risks that they're taking. We don't want to decide for them who can and who can't volunteer. We want to be very transparent. And all volunteers sign a commitment that they'll adhere to all the requirements."
One silver lining is a renewed awareness of the importance of their work. "We had people that called every day to see if they could come back. Every day, we'd say, you have to trust us, we'll let you know. We really learned the value of what providing volunteer opportunities means for many people."
---
Back to top