Veterans News
Cards for Veterans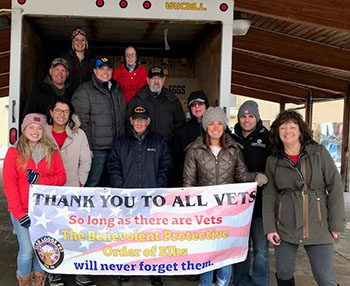 We're hosting a Card Drive to benefit our longtime partner Help Heal Veterans!
We invite Elks and their family and friends to send a card to a recovering veteran or military member. These cards will then be added to a Help Heal Veterans Craft Kit and given to a veteran.
Craft kits are especially popular right now, and many veterans are missing the usual events that have had to be canceled. A card can really help them to feel connected and appreciated.
Rules & How to Donate
Cards can be handmade or manufactured.
Maximum size is 5 1/2 x 8 1/2 (think of a folded sheet of paper or smaller).
The design and message are up to you. You can make a general card, or one specifically for Veterans Day, Thanksgiving, Christmas, Valentine's Day, etc.
Don't seal the envelopes. HHV will read each message.
When you're done, send your cards to HHV at the address below.
Help Heal Veterans, Inc.
36585 Penfield Lane
Winchester, CA 92596
This idea is adaptable! You can also deliver the cards to a local Veterans Home or VA Medical Center.
Want to learn more about craft kits?
NEW! Any Voluntary Service Representative or Lodge Veterans Chair can use this order form to request free craft kits from Help Heal Veterans to give to needy veterans.
Craft kits available for use at VA facilities, State Veteran Homes, nursing homes, veterans shelters, or to veterans attending Lodge events. Please plan ahead and allow 3-4 weeks for delivery.
---
Back to top