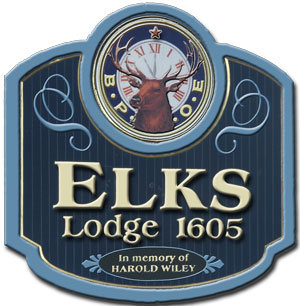 Greetings from the Lowville, New York Elks Lodge #1605, of the great New York State Elks Association's North Central District #6240. The Lodge meets at 7:00pm on the 1st and 3rd Wednesdays @ 5600 Shady Avenue, Lowville, New York 13367-1618.
SOCIAL QUARTERS HOURS:
MONDAY-THURSDAY: 1:00pm-11:15pm.
FRIDAY: 1:00pm-11:15pm.
SATURDAY: NOON-11:15pm.
SUNDAY: NOON-7:00pm.
BUSINESS HOURS:
MONDAY-SATURDAY: 9:00am-NOON
New Phone Options @ The Lodge
1-315-376-1605
New extensions and voicemail* that will be available for your assistance.
EXTENSIONS: EMAIL ADDRESSES:
200: Member's Bar.
1: Bar (Cordless).
2: Lodge Steward*. lowvilleelkssteward@gmail.com
2: Lodge Event Coordinators*. lowville1605events@gmail.com
3: Business Office*. lowville1605office@gmail.com
Lodge Secretary*. elks1605@gmail.com
5: Service Bar/Host.
16: Kitchen/Waitress Station.