Veterans News
Food, Friendship, and Focus Grants
Elks are full of creative and thoughtful ideas for serving veterans in need. This year, we awarded 43 Focus Grants to Lodges who epitomized that sentiment. Here are some snapshots of how Elks are using grant funds to help homeless veterans in their communities!
Members of Chandler, Ariz., Lodge No. 2429 and Mesa-Buckhorn, Ariz., Lodge No. 2656 are joining forces to benefit residents of Valor on Eighth, a supportive housing complex for low-income veteran families. Last year, they built an onsite food pantry and volunteered for shifts handing out fresh and non-perishable food. Now, they are building on last year's success: volunteers continue to manage the food pantry while also purchasing furniture to welcome new residents to the community.
Over in Orange, Calif., Lodge No. 1475, Lodge members are teaming up with a county agency to hand out socks and hygiene supplies at three veterans resource fairs throughout the year. Volunteers will also cook and serve a hot meal at each event, giving them a chance to interact with the veterans who attend. Although the county agency doesn't have the budget for food, serving a hot meal is critical to getting veterans in the door to learn about benefits. By adding useful goods and friendly faces at the events, the volunteers are helping homeless veterans access resources and take the first steps toward getting housed.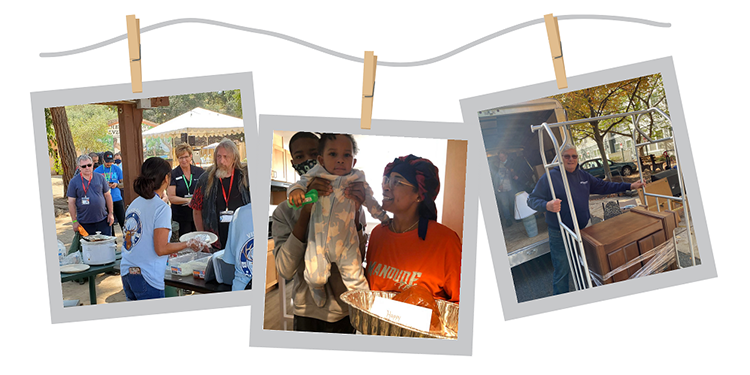 Left: Volunteers from Vista, Calif., Lodge No. 1968 serve food to veterans at a Stand Down.
Center: Members of Elgin, Ill., Lodge No. 737 deliver Thanksgiving dinner to a veteran family in need.
Right: A volunteer from Front Royal, Va., Lodge No. 2382 delivers furniture to a newly housed veteran.
Elks from Sanford, Fla., Lodge No. 1241 are helping out at the VA-run domiciliary, which provides temporary housing for veterans experiencing homelessness and adjacent issues. Volunteers will deliver supplies for the residents throughout the year, ranging from clothing to therapeutic items such as gardening tools. Equally important, they are making themselves a fixture in the community by cooking monthly lunches at the domiciliary and hosting the veterans at the Lodge for a dedicated holiday party.
Meanwhile, Elks from Westchester, Calif., Lodge No. 2050 are helping veterans venture into the community to stay social and active. Throughout the year, the volunteers will host a series of events for residents of a supportive housing facility, including outings to sports games and a fishing trip. These activities help veterans grow their confidence and build the social connections that will help them thrive in their new homes and jobs.
There are countless ways to serve homeless veterans. If you're ready to get started with your own project, your Lodge can apply for a Community Investments Program (CIP) Grant from the Elks National Foundation. CIP grants are available to all Lodges and can be used to serve many groups of people, including veterans. Beacon Grant, Spotlight Grant, and Gratitude Grant applications will remain open until January 2024. Visit the ENF website to read about the different types of CIP grants and find out which one is right for your project!
---
Back to top