Veterans News
Elk Member Brian Kinney Chosen as VA NAC Male Volunteer of the Year!
The Benevolent and Protective Order of the Elks is proud to announce that Brian Kinney of Cynthiana, Ky., Lodge No. 438 was awarded the VA NAC Male Volunteer of the Year for 2023!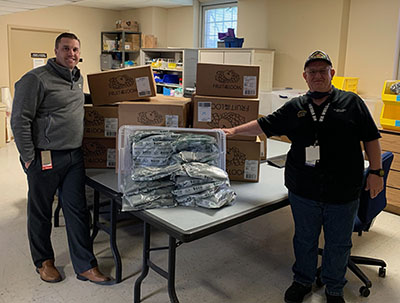 This national award is given by the CDCE National Advisory Committee to one man and one woman every year to recognize two outstanding volunteers from organizations across the nation.
Brian has been a Voluntary Service Representative at the Lexington VA Medical Center since March of 2018, and an advocate for veterans much longer. A Navy veteran himself, Brian is truly dedicated to his volunteer work.
Brian works as the Volunteer Office Supply Manager 2-3 days each week, averaging 100-120 hours a month. He also escorts patients to tests and appointments and has a knack for quickly making friends with the veterans he is transporting.
At right, Brian delivers boxes of sweatsuits to Lexington VA CDCE Officer Patrick Sinclair.
In 2022 alone, he gave a total of 1,358 hours and visited the Lexington VAMC 181 times to volunteer his time, donate supplies and coordinate his support.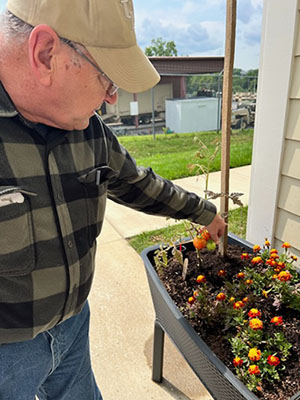 In addition to his regular volunteer work, Brian coordinates monthly events to celebrate holidays and brighten up the days of the veterans in the Community Living Center and the Mental Health Residential Rehab Treatment Program. From handing out Valentine's candy to throwing Derby parties (complete with pies and non-alcoholic mint juleps) to planning pizza Fridays, Brian is always caring for the veterans in his community with dedication and joy.
At left, a veteran shows off his green thumb at the Veterans community garden that Brian provided.
In January of 2022, the Harrison County Chamber of Commerce awarded its inaugural Heartbeat Award to Brian Kinney in recognition of his service to the community. Brian's Lodge members wrote in their nomination, "Brian Kinney is the most devoted veteran I have ever met. Because of Brian's connections and knowledge of the VA's needs, in 2021 the Cynthiana Elks were able to donate an entire gym full of workout machines, weights and treadmills to the VA, among other things. Brian is also an active member of the Cynthiana Kiwanis Club in the community. Brian truly loves his community and giving back to those in need."
Brian's love of service is evident in how he spends his time, and his enthusiasm is contagious. He ends each of his reports to the Elks office by saying "I enjoy helping my fellow Veterans and I enjoy what I do. I would do it anyway, but I am so thankful to the Elks for the support you give me to help my fellow Veterans!"
We're thankful to have him as one of our volunteers, and proud to have him representing the Elks! Read more about what VA staff and fellow Elks have to say about Brian's dedication to service below.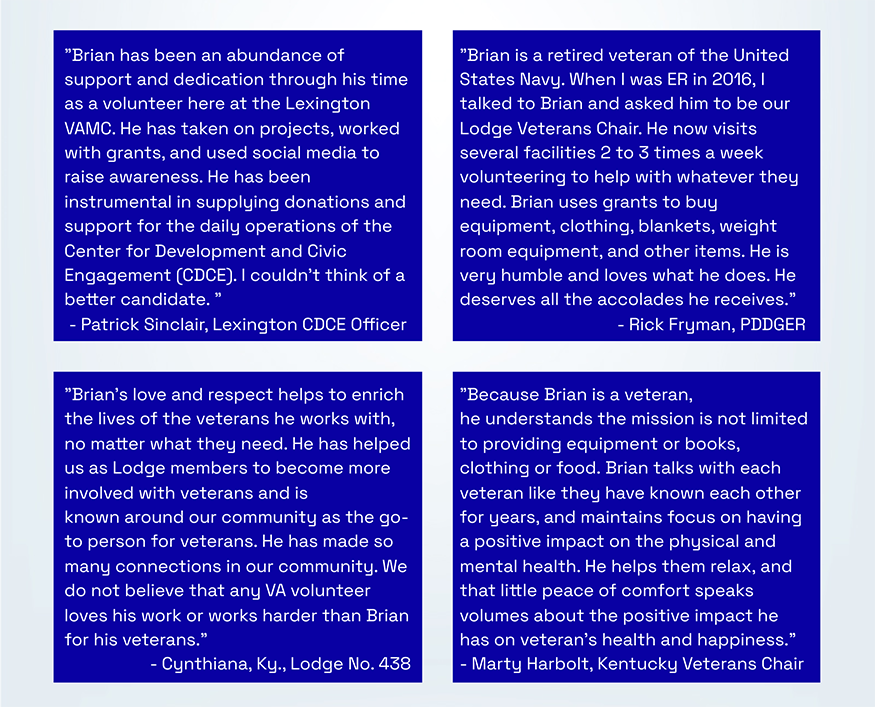 ---
Back to top