Veterans News
Congratulations to the 2023 Elks Veterans Service Volunteer of the Year
Drumroll please . . . Announcing Thomas Kramin of Willmar, Minn., Lodge No. 952 as the 2023 Elks Veterans Service Volunteer of the Year!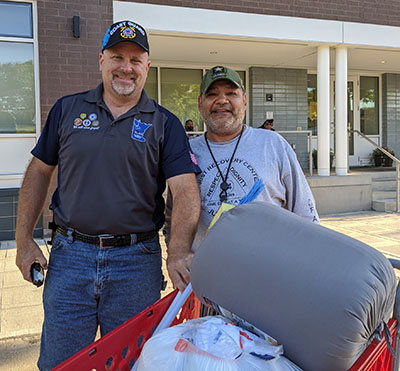 Regular Convention-goers may recognize Kramin as the one who escorts the Coast Guard flag. This year, in his home state, it wasn't just that honor he was collecting.
A few hours before the 2023 Elks National Convention Opening Ceremonies, ENVSC staff and volunteers gathered for our own celebration where we recognized Kramin as the 2023 Veterans Service Veteran Volunteer of the Year.
At the ENVSC, we are blessed to have a remarkable group of volunteers, as the Minnesota Elks volunteers demonstrated at the Minneapolis Convention. Kramin helps keep those volunteers inspired and supported.
Having served as the Minnesota State Veterans Chair for more than 15 years, he is a motivated and thoughtful leader. His motto? "Passion creates passion."
As Chair, he oversees 21 voluntary Service Representatives and Deputy Representatives at 15 facilities throughout the state. He volunteers with the State Major Project. He delivers Welcome Home Kits to veterans exiting homelessness. And he keeps recruiting more volunteers to the cause.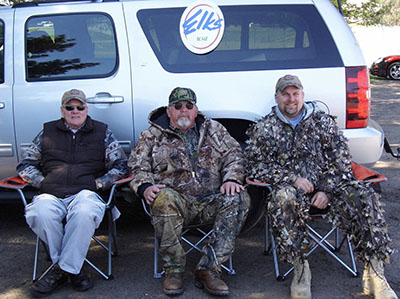 His secret? He asks. "When it comes to getting the community involved, my experience is: If you don't ask, the answer will always be NO," he shares. "Ask for assistance."
One of his true passions is recreation therapy for veterans. Nearly every month, he plans and hosts a large-scale recreation therapy event, some of which serve hundreds of veterans at a time. From ice fishing for veterans and their families to Turkey hunts in partnership with the DAV to Gold Star Family weekends and fishing trips for female veterans, Kramin is always planning something to improve the lives of veterans.
"The dedication, time, money and talent he puts in all year to serve veterans can hardly be measured," writes John Miller, Executive Director of the Minnesota Elks Youth Camp. "It is my honor to nominate him for this national award."
Kramin himself isn't interested in measuring it. His goal is something larger: to have an impact.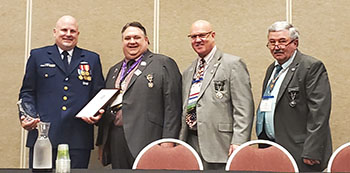 "Helping veterans is more addictive than any drug available on the market," he says. "The sense of life accomplishment and self-worth you feel in your soul afterwards is so overpowering that you want to do more. You search for things to expand on, and you realize that volunteering pays more than any paycheck you will ever receive in your work career."
Even though he's not in it for the accolades, we're proud to recognize him for his remarkable service to our nation's veterans.
Congratulations, Thomas!
---
Back to top