Veterans News
Welcoming Veterans Home in Florida
Lodges across the country have started participating in Welcome Home Kit Program to better serve transitional veterans that may have been homeless or are just struggling financially to have everything they need to live a comfortable life in the place they call home.
In fact, since the program started Elks have been able to assemble and deliver 8,315 Welcome Home kits to veterans and veteran families in need. New to the program is Live Oak, Fla., Lodge No. 1165. After they submitted their first Welcome Home Kit, we connected with the Lodge to welcome them to the program.
We spoke with Project Manager Lori Watson, who shared her experience with the Welcome Home Kit program for the first time.
What got you interested in the Welcome Home Kit program?
I am a new Elk at Live Oak Lodge. It has been a long time since they have had anyone as the Lodge Veterans Chair. I have always been interested in our Veterans so when I joined, I let them know that this is what I wanted to focus on. Capt. Mike Lydick (Veterans Services Chairperson for the North District) from the Lake City Lodge 893 has agreed to be my mentor.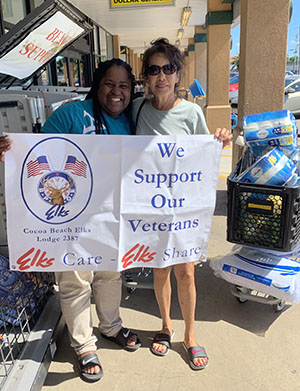 How did you find the process of completing a Welcome Home Kit?
We are in a rural area in North Florida, so Walmart was our only choice. Mike works with the VA Domiciliary, VA Hospital, and the HUD-VASH program here in Lake City to get referrals. I have a lot to learn but I was very impressed with how easy it was to complete the reimbursement form.
Were you able to deliver the welcome home kit to the veteran?
Yes! The veteran was not ambulatory, and his spouse was not available, so Mike shopped for him using his wish list. We then took it to his home in Lake City. He was very appreciative!
How did the rest of the Lodge react to the project?
I gave my report to the Lodge on Tuesday evening and got applauded for my efforts! I believe our lodge will offer lots of support to the Veterans Services.
Photo at right: Members of Cocoa Beach, Fla., Lodge No. 2387, the first Florida Lodge to participate in the Welcome Home Kit program, pose with a veteran they served.
If you or any other lodge is interested in learning more about the program, reach out to us at the ENVSC team at 773-755-4736 or at Vets@elks.org.
---
Back to top