Veterans News
ENVSC at Convention
Will you be in Atlanta for the Elks National Convention this July? If so, please join us at these Veterans Service events!
Saturday, July 2
State Veterans Chairs are invited to a full-day training. Once your own State Veterans Chair returns from this, they'll be unstoppable!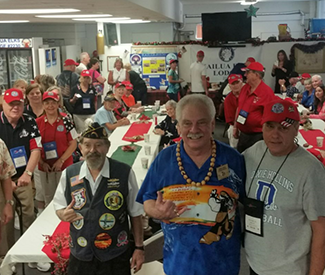 Sunday, July 3
10–11:00 AM: Join us at the Atlanta Convention Center for an Elks Idea Exchange centered on serving veterans in your community. We'll have volunteers and staff sharing ideas and leading discussions about creating successful partnerships, raising community support, serving rural veterans, adding furniture to Welcome Home Kits and more.
12-2:00 PM: Stay at the Convention Center and skip on over to the ENVSC Seminar "Ending Veteran Homelessness." Elks staff and volunteers will share stories and lessons from the past 7 years of serving veterans through the Welcome Home program.
4:00 PM: Don't miss the ENVSC Annual Report at the Opening Ceremonies on Sunday!
Tuesday, July 5
1-3:00 PM: Sit back and relax while watching the movie Oildale, about a veteran and his family struggling to make ends meet while supporting veterans experiencing homelessness. Stay for a panel discussion with the film directors to talk about veterans issues.
All week, we'll have staff and volunteers at the ENVSC booth. Stop by to learn more about the Veterans Leather Program, chat with Help Heal Veterans staff, order playing cards for veterans, and share updates about your Lodge's projects.
We hope to see you there!
---
Back to top