Veterans News
Veterans "Tackle" New Experiences
We recently spoke to Fiona Engler, Grants Coordinator for Westchester, Calif., Lodge No. 2050, about her Lodge's Focus Grant project. Focus Grants fund large-scale, Elks-led projects that serve veterans experiencing homelessness, and are available to Lodges near select cities areas with high numbers of homeless veterans.*
The Westchester volunteers partnered with U.S. Vets, an organization that helps veterans access housing and other resources. Last year, members of the Los Angeles-based Lodge used a Focus Grant to host a series of outdoor excursions for homeless veterans, including fishing and whale-watching trips.
On each trip, veterans and volunteers got to know each other and created shared memories. While everyone had a great time, the activities served a bigger role than simple entertainment. The outings gave veterans opportunities to build community connections and develop a sense of belonging. Fiona explained that spending quality time with the Elks helped veterans "realize that people actually do care about them and want them to be part of the community."
When veterans transition into permanent housing, having support system help maintain stability and feel at home in their communities. These trips create an environment that makes social connection feel achievable and helps veterans practice making new friendships.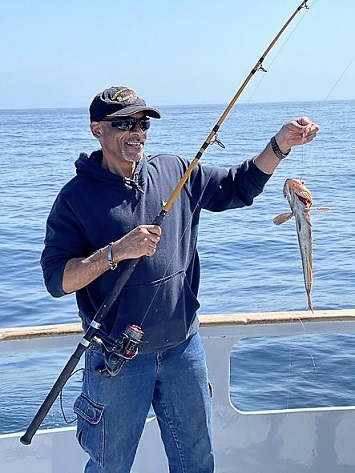 Photo: A veteran shows off his catch during an Elks-led fishing trip.
Fiona credits the project's success to building trusting relationships over time with their partner organization and the veterans they serve. The Lodge has been working with U.S. Vets for five years and started by hosting dinners for the veterans on-site at the U.S. Vets facility—a space the veterans were already familiar with and where they felt comfortable.
Fiona explained, "We've been working with U.S. Vets for so many years that a lot of the veterans there know who we are and so they're willing to reach out more. In the beginning the veterans were a little nervous but now they seem more comfortable. We started with the dinners at U.S. Vets and we'd sit with the veterans and talk with them. And then we moved on last year to the off-site events."
The volunteers at Westchester Lodge recognize the importance of investing in relationships with partner organizations. By developing a trusting partnership with U.S. Vets over time, members have been able to form deeper connections with veterans and make a bigger impact.
So what's next for the Lodge? They are planning a series of events for homeless veterans at their Lodge, including a baseball and Dodger Dog party and a trivia night. The members are looking forward to further welcoming the veterans into the into the Lodge community.
*Focus Grants are available to Lodges in and around Chicago, New York, Seattle, Washington, D.C. San Diego, Los Angeles, San Francisco, Loma Linda, Miami, Tampa-Orlando, Las Vegas and Phoenix.
Want to learn more? Check out the Focus Grant Flyer and Guidelines!
---
Back to top