Veterans News
Volunteers Back in Action!
After a year of adjusting to COVID safety procedures and mostly remote service to veterans, some Elks Voluntary Service Representatives are finally starting to return to their facilities! Here's what some of our volunteers have been doing as they return to a more active volunteering schedule.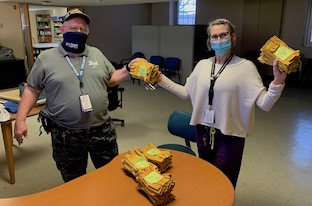 Brian Kinney was the first volunteer to return to regular hours at his facility the VA Cooper Division in Lexington, Kentucky. He has been working on organizing and keeping inventory in the volunteer office storage area. He also provides snacks, recreational therapy supplies, and materials for a bean bag toss game that the veterans can enjoy outdoors. Having a presence in the facility allows him to offer support and speak with veterans who are there for appointments.
While John Phelan has been delivering supplies to the Hot Springs VAMC in South Dakota throughout the year, he was finally able to host veterans for off-campus outings in March. Veterans were treated to breakfast at the Laughing Water restaurant, and everyone was excited to finally get together again.
Darrell Quinley, Representative at the St. Michael's Vets Center in Kansas City, Missouri, described an exciting first bowling outing for the veterans he serves. "They had a ball: sore arms, sore knees, sore backs, but they loved it!" The day was completed with a trip to Freddie's for burgers and shakes on the way home.
Some Voluntary Service Representatives have been able to assist with COVID vaccination clinics at their facilities, like Bob Wormell in Spokane, Washington. Bob reports that the volunteer service staff members were exceptionally pleased with the professionalism and concern for veterans demonstrated by Elk volunteers.
While many volunteers are returning to indoor activity, some are still unable due to facility restrictions. But that hasn't stopped Jack Strickland, in Kinston, North Carolina. Jack has continued to deliver snacks to the facility, plan for future events, and offer his support wherever needed. Residents at the Kinston Home enjoy watching birds, and Jack made this possible by installing and maintaining bird feeders outside their windows.
Lori Deutsch-Marvin, Representative at the Idaho State Home in Pocatello, and the Blackfoot, ID Lodge No. 1416 have spruced up the Elks Rehab Activity Park at the home, which includes a walking path, fixing the putting green, installing a driving range, a fire pit, and the fishing pond with a fountain for the veterans to enjoy.
Elks volunteers are excited about returning to the veterans they serve. After months of distance, in-person activities are a welcome change of pace.
---
Back to top