Veterans News
Welcome Home Kits Deliver Sweet Dreams
We have exciting news about the Welcome Home Kit program! Starting on April 1, 2021, the Elks National Veterans Service Commission will make more funding available for beds for veterans. We will reimburse up to $500 for kits with beds, up from $400 in years past. (Note that the reimbursement level for kits without beds will remain steady at $300.)
For many veterans, a bed is the most pressing need—and it can be a big expense. We want to make it easier for Lodges to provide a bed for every veteran who needs one. We chatted with one committed volunteer about what Welcome Home Kits mean to veterans and how the bed reimbursement increase will help.
Marga Coulp is the Veterans Chair at Portsmouth, N.H., Lodge No. 97. Alongside Exalted Ruler Susan Talhouk and Veterans Committee member Brenna Cavanaugh, Marga donates her time to fulfill Welcome Home Kits for New Hampshire veterans. Together, the volunteers are a "three-legged stool," says Marga—working together and sharing the load to meet the needs of every formerly-homeless veteran referred to the Lodge.
Over the years, the Lodge has built a strong partnership with a local company that supplies beds and mattresses to hotels. The vendor shares their mission of serving veterans in need and he provides a special flat-rate deal on beds for Welcome Home Kits, including linens and pillows. He even delivers the beds to the veterans' homes and sets them up for free.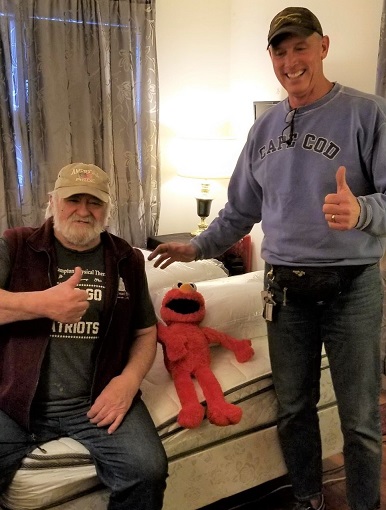 Photo at right: Army Veteran Don sits on his new bed, provided by Portsmouth, N.H., Lodge No. 97 through the Welcome Home Kit program.
"The bed is number one importance," says Marga. Especially for veterans with physical disabilities, beds are essential.
Marga told us about a veteran who has significant health issues and uses a walker to get around. He was excited to move into his own an apartment after a period of homelessness, but was worried about where he would sleep. "I can't sleep on the floor," he told her. "I won't be able to get up." The veteran was thrilled to get a new bed through the Welcome Home Kit program.
Soon after delivering the bed, volunteers realized that the veteran was still missing many of the items he needed for his new home. The Welcome Home Kit team rallied Lodge members, who worked together and used their own funds to meet the veteran's needs.
Most veterans who receive Welcome Home Kits have very few belongings. While beds are priority number one, they are far from the only need. Marga states that she is excited for the additional $100 to spend on kits with beds. The Lodge will use the funds to provide veterans with more of the small household essentials such as dishes, silverware, and towels—while continuing to buy beds for all who need them.
Before purchasing supplies, Marga calls each veteran and talks through what they have at home, room by room, to learn about their needs. The Lodge recently purchased a kit that included a baby bottle warmer and crib sheets for a veteran who will soon be having her first baby.
Every veteran has a different story. Greater reimbursement amounts for kits with beds means more funds available to meet veterans' unique needs, whatever those might be!


Want to learn more about Welcome Home Kits? Read the program guidelines here!
---
Back to top