Veterans News
Looking Out for Veterans
Home is more than just a place to live. Home is the community we belong to, and the ties we share with others. That's why following up to offer friendship and support to veterans is such a meaningful part of Focus Grant projects. Building community with veterans can take many different forms.
Focus Grants fund projects that assist veterans who are homeless, or at risk of homelessness. The grants are available to Lodges in the 8 cities with the highest numbers of homeless veterans.
Loudoun, Va., Lodge No. 2406, in the Washington, D.C. area, used a Focus Grant to provide furniture and household items to veterans transitioning from homelessness into permanent housing.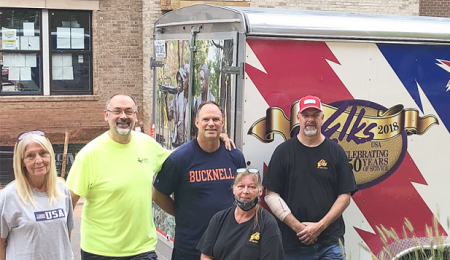 Kathee Cassedy, Veterans Co-Chair at Loudoun Lodge, is a hairdresser by trade and offers free haircuts to the veterans her Lodge serves. It's a way to help veterans take care of themselves, save money, and stay connected with community members who care. She also mails out Happy Veterans Day cards each year.
Alongside furniture and practical household supplies, Kathee also loves to give a thoughtful gift when helping veterans move into their new homes: a framed cutout star from a recycled American flag. She says it feels good to show veterans special recognition. The star is often the first piece of artwork to grace the walls of the veterans' new homes, helping to create a homey feel and remind veterans that the Elks are here for them.
Photo: Members of Loudoun, Va., Lodge No. 2406 help a veteran move into his new home after a period of homelessness.
Once, Kathee drove a veteran to the dentist, and then to the emergency room when it turned the medical issue was more serious than it first appeared. Kathee also took care of the veteran's dogs for a week while she got the medical care she needed.
That particular veteran made a big impression on Kathee's heart and became a good friend. Kathee describes her friend as "quite the pistol."

Want to learn more about Focus Grants? Click here to read all about them!
---
Back to top