Veterans News
Planting Seeds of Service
Denise Silva, Chaplain of Walnut Creek, Calif., Lodge No. 1811, knows a thing or two about giving back to her community. Ever since Denise learned about the Welcome Home Kit program at the Elks National Convention in 2017, she has stayed busy providing kits of household supplies to veterans throughout Contra Costa and Solano Counties. Welcome Home Kits help veterans exiting homeless to get the items they need to establish new homes. Along with these smaller household essentials, Walnut Creek Lodge also includes donated furniture in each kit.
Lately, Denise has been bringing her three granddaughters with her on shopping trips and to deliver kits to veterans in need. All three of her granddaughters are Girl Scouts, and they come bearing a special treat of Girl Scout cookies for every veteran they visit. "The girls like it best when the veteran has a dog," Denise adds with a laugh.
The kids got to know one veteran especially well—and his canine companion—over the four trips they made to his home to drop off furniture and household supplies. The Lodge depends on donations and the kindness of others to procure furniture, and the timing isn't always predictable. Denise likes to deliver the items as soon they become available: dishes and cleaning supplies one day, a recliner chair another day, and a bed on a third day.
Veterans sometimes ask her why she is willing to travel so far to drop off a single item. "I don't want you sitting on the floor, I don't want you not to have some way to fix food and eat," she tells them. "If I don't have the furniture you need, I at least take the household stuff so they can cook for themselves, do laundry, have clean towels."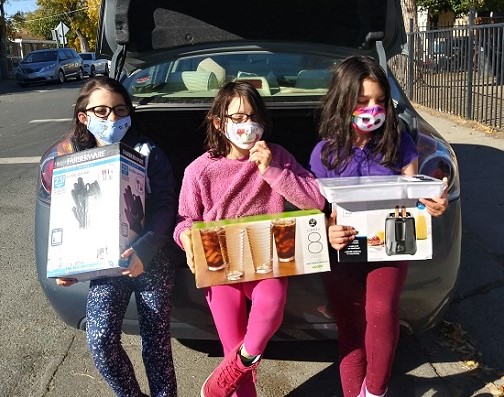 With so many veterans in need, Denise is grateful her granddaughters are here to help. "It's nice to have the girls with me when I'm doing the shopping because it usually takes a couple of shopping carts. When I was doing the shopping by myself it was hard." There's only one problem with having so many assistants: it's hard to find space in the car for all the newly purchased supplies! Denise describes her granddaughters sitting in the back seat with their hands sticking up between the bags of pillows.
At right, Denise Silva's three granddaughters help to deliver a Welcome Home Kit to a newly housed veteran.
Denise puts a lot of work into building and delivering Welcome Home Kits, "but it's so worth it just to see [the veterans'] smiles." Now, she is teaching her grandchildren to have the same passion she has for helping people in need. "We need to take care of each other. Some people don't have it as good as others," she says. "We just need to help each other."
Denise gave a piece of advice to Elks who want to start engaging in community service: "Use kids if you can. It teaches them a lot."

Want to learn more about the Welcome Home Kit program? Click here to read all about it!
---
Back to top