Veterans News
Stronger Together
Pete Scott knows from experience that all veterans and their families face hurdles when transitioning from military to civilian life. That's why he founded the non-profit Fields 4 Valor Farms in 2016. Fields 4 Valor helps to lessen these burdens by providing weekly boxes of fresh produce and other healthy foods to veterans in need in the Washington, D.C. area.
Beginning in Spring of 2020, Elks volunteers from Washington-Rockville, Md., Lodge No. 15 began partnering with Fields 4 Valor to get food boxes into the hands of veterans and families served by the Montgomery County Coalition for the Homeless (MCCH). The Lodge used a Spotlight Grant from the Elks National Foundation to help pay for expenses that Fields 4 Valor could not otherwise afford, such as mileage for transporting the food to MCCH, cooler bags, and egg cartons (which are normally donated, but now need to be purchased new because of the COVID-19 pandemic). Jason Smith, a dedicated Fields 4 Valor volunteer, picks up the food from the farm in Brandywine, Maryland every Saturday and transports it to a central location. Elks volunteers and a group of military medical students gather to collect the food from Jason and deliver it directly to veterans.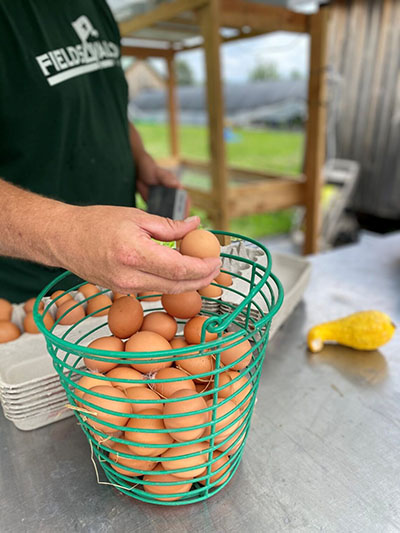 Fields 4 Valor Farms provides fresh eggs, vegetables, fruits, nuts and even honey to veteran families in need (photo courtesy of Fields 4 Valor Farms website).
For Pete and Jason, the work of serving veterans is personal. Jason retired in 2016 following a 20-year military career. Then, when he wasn't paid by the military for six months, he and his family were evicted from their home. In that moment, he felt he had lost the 20 years of security he had been working toward. He says that Judy Black (Grants Coordinator and Co-Chair for the Veterans Committee of Washington-Rockville, Md., Lodge No. 15) holds a special place in his children's heart because of how hard she worked to help his family through that scary time.
When Pete retired after 12 years as a Counterintelligence Agent, he was happy to come home for good. But soon he was diagnosed with PTSD and began to feel like his life was unraveling. While pursuing treatment, he found that working outside was an important part of his recovery. Gardening and beekeeping made him feel grounded. Today, he gets to share that sense of peace and joy with other veterans by giving away seedlings. Lynn Rose, Community Engagement Specialist at MCCH, calls the seedlings "farms in a box." They give recipients a chance to practice their own green thumbs and grow food for themselves and their families.
To Lynn, the seedlings and food boxes tell veterans, "You matter." Participants at the MCCH report that they feel healthy when they eat the fresh food provided by Fields 4 Valor and that the deliveries make it easier to budget for household needs. But the project also does something else: it makes veterans feel seen and cared for. Judy observes that while a can of soup will fill you up, farm boxes are special because of the emotional and spiritual nourishment they can provide. Lynn captures this feeling, too; for many veterans, she says, it is powerful to know that "someone had their hands in the dirt to take care of you."
At the heart of this collaboration is the power of relationships. Before bringing Fields 4 Valor into the loop, the Washington-Rockville Elks and MCCH had a multi-year partnership. Lynn explains that the Lodge has done a great job of finding ways to fill in gaps in service for veterans and adapt to community needs. Thus, when Jason came to Judy seeking to expand the reach of Fields 4 Valor Farms, she knew exactly what to do with that opportunity: she turned to her partnership with Lynn. The success of this endeavor shows how important it is to build and maintain strong community connections.
Judy played an integral role in creating the partnership between Fields 4 Valor Farms and MCCH. One could say she was the glue, bringing together organizations that were doing important but separate work on behalf of veterans. Pete knew Jason. Jason knew Judy. And Judy knew Lynn. Now, united by a common goal, they are working together and amplifying the impact of their work to enhance veterans' lives.
We are proud to witness Elks serving veterans, but we need not be surprised. It's like Judy says: "Elks don't ask, 'Can we do that?' Elks ask, 'How can we do it?'"
---
---
Back to top