Veterans News
Advancing Hope and Housing Justice in Uncertain Times
As the Veterans Justice Outreach Specialist at the Jesse Brown VA Medical Center, Janika Walker has special insight into the lives of Chicago's veterans. Each day, she witnesses the barriers veterans face to maintaining stable housing. She also witnesses the community partners that make stable housing possible for veterans, even when the deck is stacked against them. The Elks National Veterans Service Commission is one of those crucial community partners. Here at the ENVSC, we partner with VA social workers to operate the Emergency Assistance Fund (EAF) in the eight U.S. cities where veterans are most impacted by homelessness. The fund offers one-time emergency assistance to veterans to prevent homelessness and help veterans obtain stable and permanent housing.
Chicago is one of the eight cities that participates in the EAF. Since the start of the fiscal year in April 2020, the EAF has provided housing assistance to 36 veterans from the Jesse Brown VA Medical Center. The VA has a Housing First policy. This means the organization prioritizes getting veterans into permanent housing, and then builds on that foundation to meet their other needs, including health care and employment resources.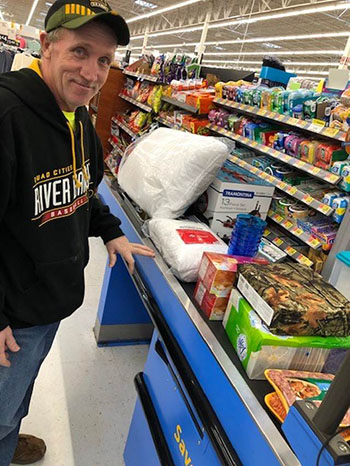 The Elks helps to advance the VA's mission by helping veterans keep or establish permanent housing.
The program, Walker says, is a blessing. For example, two veterans from Jesse Brown received help with the cost of moving to new homes. Without the support of the Elks, the veterans likely would have been forced to give up their property and start building a new home from scratch. Instead, they were able to embrace a more stable future.
At right, Elks volunteers from Davenport, Iowa, Lodge No. 298 help a veteran purchase all of the necessary supplies to make his new house feel like home.
The COVID-19 pandemic has shined a spotlight on the importance of the EAF. Since the start of pandemic-related shutdowns in March 2020, veterans around the nation have faced economic hardship. These financial burdens can have dire consequences for veterans, who tend to be uniquely vulnerable to homelessness. "With our homeless veteran population, they're already at a severe disadvantage," Walker explains. "We contact them at their lowest point."
Many of the veterans Walker serves experience physical and mental health challenges or substance use issues that can exacerbate financial concerns. She estimates that since the start of the pandemic, 40% of the Jesse Brown VA Medical Center's the EAF applications have been for veterans directly impacted by COVID-19: people who have lost their jobs, been furloughed, or become ill with COVID-19.
Walker remembers one veteran in particular who received help from the EAF. The veteran became ill with COVID-19 and went into kidney failure. When he recovered, the Elks helped him relocate from Chicago to Florida. "That was a success story," says Walker. "This veteran overcame COVID and kidney failure, and this program was there to literally reunite him with his family and to ensure that he had those social supports that he needed."
In September, the Centers for Disease Control and Prevention issued a moratorium on evictions related to non-payment through the end of 2020. As much as Walker is thankful for the moratorium, she notes that it is a Band-Aid, not a long-term solution. She questions whether there will be enough safety nets in place to meet the needs of veterans who are not receiving financial hardship support from the Chicago Housing Authority. "What happens in 2021?" she wonders. "What happens if we don't return to some sort of normality?" Come 2021, she worries that many veterans may continue to be unemployed or to experience lingering health effects of COVID-19, even as the protections currently in place dwindle. Because of this, she anticipates the need for the EAF will be even greater in 2021 than it is today.
"My hope," Walker says ruefully, "is that 2021 comes and we'll magically have the answers to ensure that no veteran is left behind." But she knows she has to be realistic about the challenges the coming months and years will bring—and that's one reason she is thankful for the EAF. Those of us who are committed to ending veteran homelessness will keep hoping for a little bit of magic. Most importantly, we will continue working toward housing justice for veterans with every resource we have. Here at the Elks, we are grateful that the EAF can be a resource for veterans in need.
---
---
Back to top