Veterans News
Serving Outdoors or from a Distance
Has your Lodge been missing the usual opportunities to volunteer with veterans? Even with events cancelled and hospitals closed to visitors, there are alternative ways to get involved.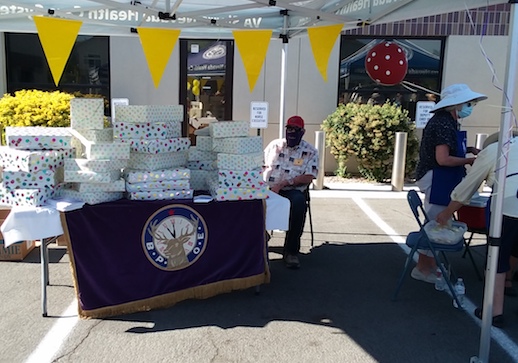 Eveleth, Minn. Lodge No. 1161 used their Freedom Grant to provide supplies for the nearby veterans' shelter and the Silver Bay Veterans Home. Elks provided hand sanitizer and other hygiene items in high demand, games to give the veterans more to do while staying inside, and gift cards to help them shop for other needs. Because Elks put together the supplies and dropped them off, no contact was necessary.
If you can't gather indoors, take the event outside! Carson City, Nev. Lodge No. 2177 hosted a drive-through baby shower for veteran families in their community. Parents lined up in cars to receive gifts of supplies from masked Elks standing by in tents.
After a recent hailstorm destroyed the outdoor bird feeders at the Fort Meade VA Medical Center, Voluntary Service Representative Neil Harris provided new feeders and seed to keep them filled, along with his regular supply delivery. Neil said that bird watching is a daily event for many veterans, and the staff at Fort Meade was very appreciative. Sometimes the little things can make a big difference.
For more ideas about what you can do for veterans right now, read this article about how to safely adapt your projects to keep serving veterans. We plan to keep you updated as we hear more about what Elks Lodges around the country are doing, and we'd love to have you share your ideas with us!
---
Back to top