Veterans News
2020 Elks Veterans Service National Volunteer of the Year
Drumroll please . . . . . .
We're proud to announce that the 2020 Elks Veterans Service National Volunteer of the Year is Gary Drumheller of Sun City, Ariz., Lodge No. 2559!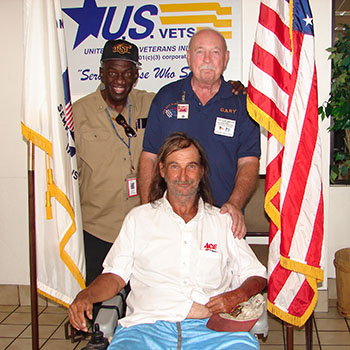 Though we can't honor him at convention like planned, we can still brag about his accomplishments.
Though he was on the golf course when we called to tell him he was our national winner, Drumheller is usually working remarkably hard to serve veterans in Phoenix and throughout Arizona.
At the Arizona State Veterans Home in Phoenix, where he has been a Representative since 2011, veterans know they can count on Gary to host monthly bingo with prizes, along with special events like Christmas parties, music shows, baseball games, burger nights, and more. On average, Gary visits the Phoenix Veterans Home about four times a month! He brings as many as 25 volunteers along with him to these events, with on a focus on each person spending quality time with the veterans at the facility.
As Arizona State Veterans Chair, Gary supports and assists volunteers throughout the state. That reputation as a state-wide leader extends beyond the Elks, too.
"Gary is known as the go-to guy throughout Arizona for any veteran in need," says Bill Hudson, Past Exalted Ruler of Sun City Lodge. "Under Gary's leadership our Lodge is recognized as the top veterans support organization in the State of Arizona, not only by the Elks but by the VA, American Legion, DAV, Paralyzed Vets, and VFW."
At our office, we regularly receive phone calls from veterans seeking assistance, and they've often exhausted all other options. We do our best to research options for these veterans, which sometimes means connecting them with a Social Worker, an assistance program or local housing options. Sometimes, it means reaching out to our local members for help.
"When Veterans from Arizona call us with a problem, whether it be homelessness or rental assistance, trouble getting VA benefits or something else, one call to Gary and he instinctively knows what to do to help solve their problem," says Silva Holman, who fields many of these calls to our office.
She continues, "Recently, a Korean War veteran contacted us asking for help with funeral costs for his wife of 62 years. He was distraught, and didn't know where to turn. We contacted Gary and within minutes, he had a solution. This is just one example of Gary's devotion and commitment to help any veteran in need."
Springing into action to help a veteran in need is something of a habit for Drumheller. "Several years ago, there was a vacant lot in the Phoenix area that had homeless veterans living there," says Bill Hudson, PER at Sun City Lodge and the force behind Gary's nomination for this award. "Gary learned of this and bought sleeping bags, tents and other things the veterans needed. These things were purchased by Gary and other Elks out of their own pockets."
Listen to Drumheller accept his award (remotely) and share more about his work in the video above.
With Gary's leadership, Sun City Elks Lodge has also become a hub for collecting needed donations from the community, whether it is clothing, furniture, power wheelchairs and medical equipment, or even cars. Once collected, these supplies don't stay at the Elks Lodge for long.
The Lodge then collaborates with veterans organizations everywhere to get these supplies to veterans in need. Over the past 6 years, the amount of non-cash contributions the Lodge has collected and distributed to veterans amounts to $2.5 million in aid!
"Gary works tirelessly for the veterans," Hudson concludes in his nomination. "Gary's devotion to the veteran community is second to none and his performance is above and beyond any expectation. Gary's work with veterans is known throughout the BPOE as well and it is time that we acknowledge this on a national level."
We couldn't agree more, Bill. Congratulations to Gary Drumheller for being named the 2020 Elks Veterans Service National Volunteer of the Year!
---
Back to top