Veterans News
Freedom Grant Applications Open on June 1!

This year, as your Lodge prepares to apply for a Freedom Grant, you may be wondering how restrictions on gatherings and events due to COVID-19 will affect your project. Many projects will not be possible in the same way as they were in previous years, but with some adjustments we hope you'll continue to find ways to use the grant to serve veterans in need.
The level of involvement we usually look for Freedom Grant projects will not be a requirement in 2020-21. Lodges may use Freedom Grants to donate supplies or funds to approved recipients when active involvement is not possible. Some types of projects your Lodge may consider are:
Delivering supplies that are especially needed at this time such as masks, gloves, cleaning supplies, iPads for veterans to communicate with family members, phone cards, or food.
Dropping off recreational or hygiene supplies at a veterans' home or hospital.
Ordering food for delivery to veterans' facilities (pizza party, catered barbecue, etc.).
Move-in kits for veterans entering housing, or survival supplies for veterans experiencing homelessness.
Donations to facilities or non-profits that will use the funds to help veterans who are in need right now.
As you plan your Freedom Grant application, keep in mind that event restrictions could be lifted or put back in place in your area throughout the year. If your Lodge plans to distribute supplies, consider whether extra equipment may be needed for Lodge members while shopping or delivering items. Your budget can include masks, gloves, or other items needed to complete the project safely. And don't forget, shopping online is a great way to avoid crowds!
Many Lodges have already adjusted to the pandemic as they completed last year's Freedom Grant projects and in their ongoing veterans' programs.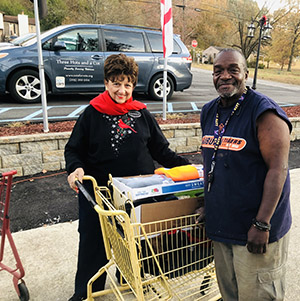 Last month, James Johnson, a Voluntary Service Representative at the San Diego VA, delivered Elk-made masks along with more usual donations of blankets, socks, coffee, and candy for patients at the facility. Even though he couldn't go inside, the staff appreciated the support and having volunteers willing to drop off needed items at the door.
In Barboursville, West Virginia, Voluntary Service Representative Larry McGuffin learned from the Recreation Director at the VA that veterans needed instant coffee so they could enjoy having coffee in their rooms. He also provided iPads to assist with telemedicine appointments and allow veterans to talk to loved ones when visits are not possible.
Cahaba Valley, AL, Lodge No. 1738 had to cancel their year-end celebration for veterans transitioning into housing due to COVID-19. Instead, they used remaining Freedom Grant funds to replenish supplies at the food pantry they support. The extra food was especially appreciated during a time when pantry donations had slowed.
For more information about the 2020-21 Freedom Grant, and to fill out an application, please visit the Freedom Grant webpage.
---
Back to top