Veterans News
Safe and Sheltered, Thanks to the Elks
Over the past few weeks, we've been sharing stories on our webpage and on Facebook of Lodges that have found ways to keep serving veterans, even with visitation bans and other restrictions in place.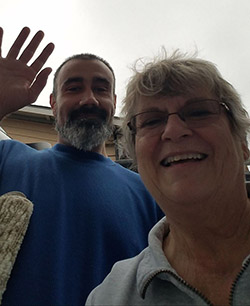 To keep that trend going, we'd like to feature a few Lodges whose work over the past year has helped veterans find safe, stable places to live, making this pandemic easier to weather.
Each of these Lodges, located in one of the 8 areas of the country with the highest number of homeless veterans, received additional funding specifically to serve veterans experiencing homelessness in the form of a Focus Grant.
Everett, Wash., Lodge No. 479 was able to give 38 veterans a fresh start when they moved into homes over the past year. More than 100 Lodge members came together to make this project happen, contributing their own items to make the funds stretch further.
This allowed the Lodge to accommodate special requests like clean clothes for veterans, new shoes for a veteran with extra large feet, and a shower chair for a veteran with mobility issues.
At right, a Lodge member poses with a newly housed veteran!
It's small things like these that make all the difference sometimes. One grateful veteran wrote to the Lodge, saying "Thank you so much for what you do for us veterans. You give me hope."
---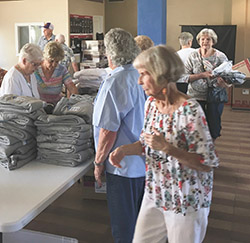 When nonprofit organization US Vets reached a deal to turn former March Air Reserve Base into a shelter, it was a big undertaking. Each apartment came with just a bed and a dresser.
Luckily, they knew where to turn to for help with the rest. Hemet, Calif., Lodge No. 1740 stepped in and prepared kits of home supplies for the 50 veterans moving in.
At left, Hemet Elks in action packing supplies!
Nearby Temecula Valley, Calif., Lodge No. 2801 joined in the action, partnering with US Vets and the Loma Linda VA to provide home supplies for veterans receiving needed healthcare at another shelter next to the VA facility.
With many of the veterans arriving with just the clothes on their backs, Elks were able to help with the rest, providing clothes, hygiene supplies, bedding, and more.
---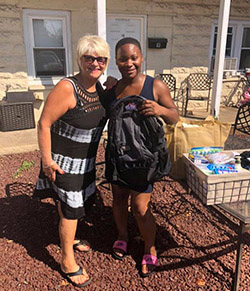 Woodbridge, NJ, Lodge No. 2116
is keeping it local. The Lodge partnered with the Middlesex County Veterans Council to provide support for local veterans in ways large and small. The Lodge provided Welcome Home Kits to local veterans moving into new homes, including one veteran with 2 young children.
At right, a volunteer poses with the veteran and some of the supplies for her and her children.
They bought and installed an air-conditioner for an older veteran with breathing problems and helped a veteran buy a new suit for an upcoming job interview.
But they were also tuned into smaller needs that can make a big difference. Lodge members drove veterans to doctors' appointments, helped a veteran get his license back and even acted as a moving crew for a veteran who needed help.
Thanks to this ongoing support project, community members know that when there is a veteran in need, they can call the Elks.
---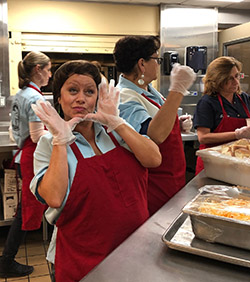 Westchester, Calif., Lodge No. 2050 knows that food can bring people together. Five times a year, the Lodge partners with a US Vets shelter to provide a meal for hundreds of veterans and their family members.
For many veterans, these meals are their first introduction to US Vets and their services (which include housing, job training and more). Elks cook and serve the meal, then stick around to spend time with the veterans.
At left, a Lodge member takes a break from serving to get ready for her close-up!
These community-building meals are followed by educational seminars where Elks provide supplies and guidance to help veterans learn about services and gain skills.
Except once a year, when the meal centers around the Super Bowl. Everyone needs to relax sometimes.
---
Back to top