Veterans News
The Helping Hands of Chula Vista Lodge
Without our volunteers, our programs wouldn't run. We're happy to be able to offer more resources than ever before to help Elks serve veterans in their community.
Lodges do that in so many ways. We reached out to Kim Coronado, Lodge Veterans Chair at Chula Vista, Calif., Lodge No. 2011, to learn how her Lodge makes the most of Elks resources to help local veterans. Here's what we learned.
Freedom Grant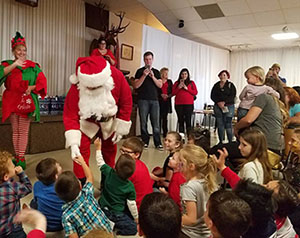 Chula Vista Lodge uses their $2,000 Freedom Grant at Christmas time to sponsor twenty active duty military families in need. They bring all the families together for a BBQ lunch, where each family receives a turkey, a sack of groceries, a $25 gas card, a $50 commissary card, and holiday gifts for the children.
"We do our best to get the top three items on the kids' wish lists," says Coronado.
The other highlights of the event include crafts for the families and photos with Santa! While the kids are making their crafts, the parents decorate a gingerbread house to take home and enjoy.
Lodge Fundraisers
While the Freedom Grant is a great starting point, this event is an even greater success with the help of lodge fundraising! The Christmas event for military families is supported with funds earned through the lodge's Victorian Country Christmas craft show and High Tea, bringing in an additional $5,000-8,000 every year.
Welcome Home Kits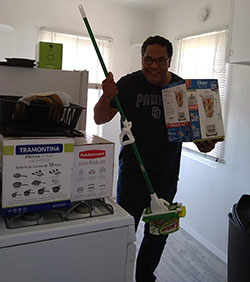 Every lodge is eligible to support recently housed veterans by providing a Welcome Home Kit full of all the household necessities a veteran may not have had while living in a shelter or in a car, for example. Welcome Home kits include such necessities as pots and pans, dishes, cutlery, coffee pots, toasters, bedding, pillows, and towels.
Lodges can supply as many or as few kits as they'd like, based on need and ability, but Chula Vista Lodge goes above and beyond to supply an average of 9-15 Welcome Home Kits each month!
These kits fulfill a real need. As one grateful vet put it, "I managed to get a place but was beyond overwhelmed even thinking of how I was going to purchase the necessary things to live in it."
Focus Grant
Because Chula Vista is located near one of the 8 cities with the greatest number of veterans facing homelessness, they are eligible for up to $10,000 in additional grant funds focused on ending veteran homelessness.
The Lodge used the first half of its Focus Grant toward the San Diego Military Stand Down. Each year, San Diego Veterans Village sponsors a Stand Down to provide resources for approximately 1,000 homeless veterans.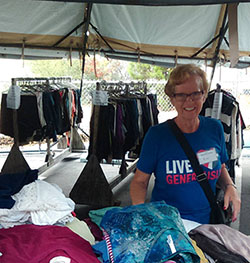 These resources include a cot for three days, showers, meals, clothing, medical care, dental care, legal assistance, and employment opportunities.
Chula Vista Lodge uses grant funds to provide veterans at the stand down with shampoo, soap, combs, shaving cream, razors, undergarments, and bags for their new items. Elks members are heavily involved with running the event, with volunteers helping with the set-up, security detail, data entry, clothing tent, and clean-up.
For the second part of the grant, Chula Vista works closely with community partner Support Services for Veterans Families (SSVF) to support newly housed veterans. SSVF lets them know when a homeless veteran is moving into his or her own new place. In addition to the Welcome Home Kits full of basic home supplies, they were able to provide a couch, dining table and dressers for eight families this year.
Coronado shares, "In most cases, the furniture we donated was all that the vets had besides the basic bed provided."
Spotlight Grant
Every lodge is eligible to receive the ENF's newest grant! The Spotlight Grant provides up to $2,000 for a specific project in the area of family literacy or veteran homelessness.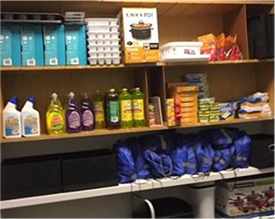 Chula Vista uses its grant to supply their "Elks Helping Hands Closet." This closet is located at the Support Services for Veterans Families office on-site with the social workers. The closet is stocked with laundry, dish, and bath soap, shampoo, cleaning supplies, razor blades and shaving cream, toilet paper, and deodorant. By shopping at the Dollar Tree, the Lodge has the budget to be able to provide 186 items a month for ten months. Veterans who visit the social workers' office are able to help themselves to the supplies in the closet to help stretch their monthly budget.
Community Resources
The Chula Vista Lodge's reputation has been growing in the community of veterans; their lodge has been contacted by other organizations such as Emergency Services and Father Joe's Village. As word of the Elks' work for veterans spreads, they have been called to travel as far north as Oceanside and Escondido to help. Their lodge even has a collection of used furniture now at their disposal, all donations from community members who want to help out!
Unexpected Benefits
Coronado shares, "Most recently, we have a couple of members that have been able to hire some of these newly housed veterans and provide them with sustainable jobs!"
How does your Lodge serve veterans in the community? Email us at Vets@elks.org and maybe we'll feature your Lodge next!
---
Back to top