Veterans News
2018 Elks Veterans Service National Volunteer of the Year
If you were able to attend the ENVSC presentation at convention, you were lucky enough to see us present the National Veterans Service Volunteer of the Year award to a very deserving Elk.
If you weren't able to join, now is the time to meet the recipient! We're proud to name Earl T. Bouchard of Sunland-Tujunga, Calif., Lodge No. 2098, the first ENVSC National Veterans Service Volunteer of the Year! We received many great applications from across the country, reminding us why an award to recognize an outstanding volunteer at the national level is necessary.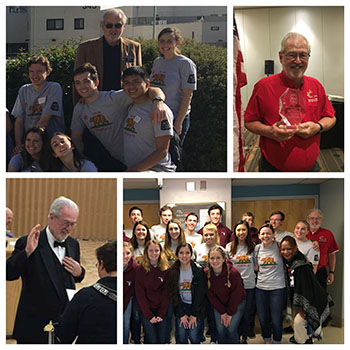 Earl Bouchard received multiple nominations from both the VA and his Lodge. Coupled with our office's experience working with Earl, we knew we'd found our winner.
Earl Bouchard has been the Elks Voluntary Service Representative at the Sepulveda VA Medical Center for 12 years. He's been serving veterans for much longer than that. For the past 30 years, Earl has planned and executed a 4th of July picnic for as many as 700 individuals at the Sepulveda VA. Dedicating his holiday to serving others year after year is quite a sacrifice, but Earl does much more than that. Take it from the VA Voluntary Service staff Louis Waller and Travis Miller, who went out of their way to nominate Earl for this award. They write,
"In 2017, Earl planned and carried out the annual Volunteer Award luncheon, the Women's Veteran Luncheon, the Fourth of July picnic, five Stand Downs, the Veterans Day parade, the Breast Cancer Awareness Walk, and even Valentine's Day. Each time, Mr. Bouchard and his crew of volunteers worked diligently and tirelessly from start to finish. He is dedicated to never letting anyone down, and he always talks to veterans with encouragement and kindness; this is what keeps veterans looking forward to these events."
Earl and his wife Margie have also become involved with the Welcome Home program in the area by providing veterans moving into homes with furniture, household supplies, books, toiletries and other donations they've gathered.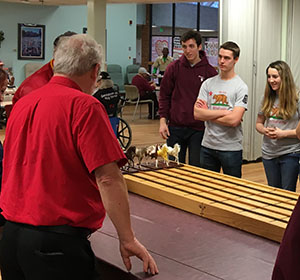 When the ENF Scholarship department chose Santa Monica as the location for the 2018 Elks Scholar Service Trip, we knew knew just who could help. Earl not only helped arrange some of the Scholars' service at the VA, he also came to serve alongside the Scholars, showing them the very definition of a dedicated Elks volunteer.
Earl later crafted a new wooden horse race track for the Elks Scholars to use when serving veterans at the VA in the future, and presented it to the ENVSC at convention. Even when the spotlight is supposed to be on him, Earl finds a way to make it all about giving back to others!
Earl Bouchard was presented with his ENVSC National Veterans Service Volunteer of the Year Award at convention in San Antonio. He received a standing ovation, and after the event, our staff was assured by some of Earl's fellow California volunteers that we "really made a very good choice."
The Elks National Veterans Service Commission could not exist without the outstanding service of dedicated volunteers like Earl Bouchard. As Earl's Lodge member Gerry Cody wrote in her nomination letter, "Earl Bouchard has been my mentor for over eight years. I could go on and on as to the love and dedication Mr. Bouchard has for the veterans. His passion for our veterans is incredible beyond words."
We couldn't have said it better.
---
Back to top