Veterans News
Join us in San Antonio for Convention!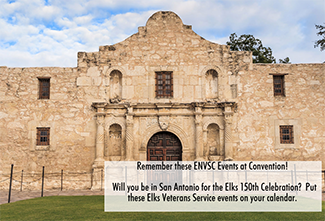 Will you be in San Antonio for the Elks 150th Celebration? Make sure to put these Elks Veterans Service events on your calendar.
Sunday, July 1: 10:00 a.m. to Noon
More than 100 Elks scholars will be at the Convention Center assembling hygiene kits for veterans in need. Whether you want to pitch in for two minutes or two hours, the scholars will welcome your help.
Monday, July 2: 12:30 – 1:30 p.m.
Community Investments Program: Lodge Grants This session will be an overview of all 2018-19 Community Investments Program Lodge grant opportunities, including best practices for grant use and updated deadlines and processes.
Monday, July 2: 2:00–3:00 p.m. The Elks National Veteran Service Commission will hold "Increase Your Impact: How to Optimize Your Veterans Service" seminar to be in room 221AB at the Henry B. Gonzalez Convention Center. Learn how your Lodge can target its veterans service programs to make the biggest impact in your community. This session will give an overview of existing resources and how to use them to meet the needs of local veterans.
Tuesday, July 3: 2:30-3:30 p.m.
If you want to hear more about how the Elks are already making a difference in veterans' lives, be sure to attend the Grand Lodge Business Session to hear the ENVSC Report for 2017-18. We'll debut a new video about our longstanding Elks Voluntary Service Program and recap successful years for the Veterans Leather and Welcome Home programs.
All Convention:
Stop by and visit us at the ENVSC booth! Visit with our Veterans Program experts, talk with State Veterans Chairs, learn about your state's Veterans Volunteers of the Year, and more. Hope to see you there!
Before you go . . .
Remember that Freedom Grant applications go online July 1! This June, make a plan with your Lodge so you can submit your application once it becomes available. This is especially important because this year we will award Freedom Grants to first 300 Lodges that submit qualifying applications. So, submit your application early in July, and be ready for follow-up questions from our office! More information at www.elks.org/cip.
---
Back to top