Veterans News
Helping Veterans Get Back on the Move
In the United States, 3.6 million people report use of a wheel chair and 11.5 million people use of a cane, crutches, or a walker, per the 2012 Current Populations Report (link). This means that more than 15 million people would benefit from greater access to wheelchair ramps.
We checked in with South Kingston, R.I., Lodge No. 1899, which runs an Impact Grant project that assists local seniors, families in need and individuals with disabilities care for their homes through the Home Maintenance and Repair Assistance project. They often build ramps at homes, and we asked them to share their knowledge.
Here's how to get started.
Check your local building codes. Before beginning this project, be sure to check building codes at both the state and local levels. Requirements may vary based on the structures' longevity (temporary or permanent), and permits may be required. Do NOT skip this step. If you do not follow building codes you could be forced to remove the ramp and could face fines.

Put together a budget. The costs of building a ramp will vary greatly depending on its size and materials. Many home-owners are unable to afford the cost of hiring a contractor to build a wheelchair ramp. Sometimes, this simple thing prevents individuals with disabilities from staying in their own homes.

Start building! South Kingston Lodge uses these two sets of detailed, step-by-step instructions on how to build a wheelchair ramp as a guide.

Guide #1: The explainers at WikiHow have put together a very detailed guide.

Guide #2: Family Handy Man has also put together thorough instructions.

Need some additional help? The nonprofit organization Paralyzed Veterans of America has architects on staff who can consult on wheelchair ramps and other accessibility projects.
Looking for inspiration? Check out this photo of Elks in action. Happy building!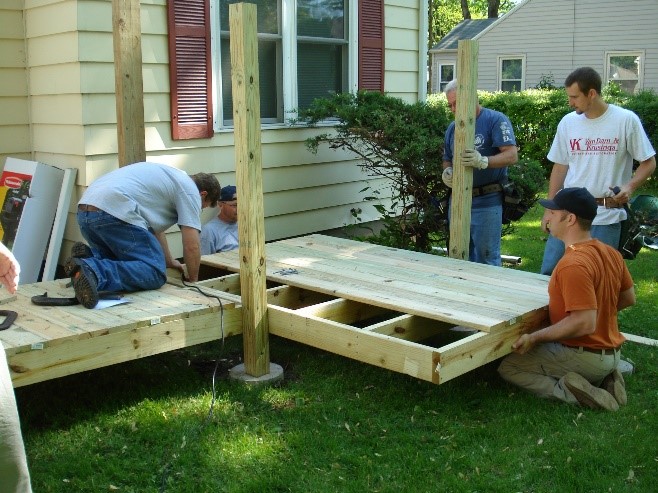 ---
Back to top