Veterans News
Welcome Home Kits How To
Check out this step-by-step guide on how your lodge can get started on the Welcome Home Kit project. You can help newly housed veterans settle in with all they need to succeed!

The Welcome Home Kit program provides funds for lodges to equip newly housed veterans with household essentials. The Elks National Veterans Service Commission (ENVSC) will reimburses lodges up to $200 to cover items such as small furniture, kitchen supplies, bedding, and cleaning supplies. But where to start? Members of the Hopkins lodge No. 2221 in Minnesota were interviewed to gain insight on what they've learned from their Welcome Home Kit deliveries. This article will serve as a step by step guide on how to use the Welcome Home Kit grants at your local lodge, using the Hopkins Lodge as a model full of pro tips.
Step 1: Contact Your Local VA Facility
Begin by getting the contact information from the ENVSC for your local VA representative. Each VA facility has one person whose job is to work with homeless veterans. You may be fortunate enough to have one of the 29 national VA Community Resource and Referral Centers (CRRC) to work with (click for the list of CRRC locations). This contact will be your ally throughout the project, but don't be discouraged if you don't get a response from them immediately. After a few unreturned phone calls from the VA CRRC contact, the Hopkins Lodge went to the office and explained the program. Their contact was thrilled to learn about the program and was eager to begin.
The Elks have the ability to make things simple for the VA; once given the name of a soon to be housed veteran, Elks can make all the arrangements and deliver the materials. The VA is often overloaded with work and when an organization steps up and takes care of everything, they love it.
Step 2: Determine Essential Items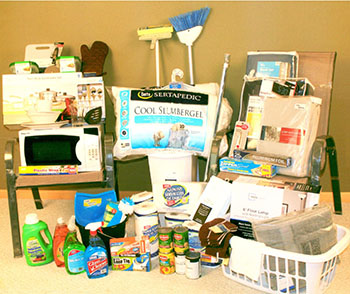 It is vital to work with the VA to collaborate efforts and determine what is essential for your area. VA facilities often receive donations such as beds, furniture, and household items. For example, the Minneapolis VA receives complete bed set donations from Serta Mattress, allowing the Hopkins lodge to include a bed in their donations along with proper sized sheets and comforters. This is a great way to ensure you're maximizing efforts and providing the most useful kits. All locations will not need the exact same items, but a list of the most commonly needed supplies is provided here.
It is also crucial to work with the VA to compile a list of necessary items as they have more experience working with newly housed veterans. For example, the VA recommended including a clock radio because it not only provides the veterans with the means to check the time, but also provides background sounds so they don't feel lonely in their nearly empty apartment.
Pictured is a typical Welcome Home Kit assembled and delivered by Hopkins Lodge.
Step 3: Bargain Shop
As explained before, the ENVSC will reimburse lodges for up to $200 per kit, making bargain shopping crucial. In the past, lodges have had the most luck shopping at discount and dollar stores. It is recommended to go to multiple stores to find the best sales and maximize each dollar. The Hopkins Lodge found that by talking about the program, people wanted to help and do their part. Don't be afraid to ask for donations or discounts!
It is also recommended to hold a supply drive at your lodge to gather gently used furniture and household essentials. In doing so, you can use the Welcome Home Kit funding from the ENVSC to supplement items received for free. This is a great way to deliver the most widespread kit to each veteran.
Keep your receipts! Receipts are crucial for the ENVSC to reimburse your lodge. It is recommended to send a photocopy of them, rather than the actual receipt, in case they get lost in route to Chicago.
Step 4: Assemble and Deliver the Kits!
Assembly and delivery of the kits is a great way to get Elks member participation in the project. Hopkins Lodge has had nearly 20 Elks members participate so far. Most of the veterans have kept in touch and want to give back and join in the program. Shown below is Elks member Debbie Moe, Debra's daughter, Debra a newly housed veteran, and Elks member Maureen Golden, from left to right.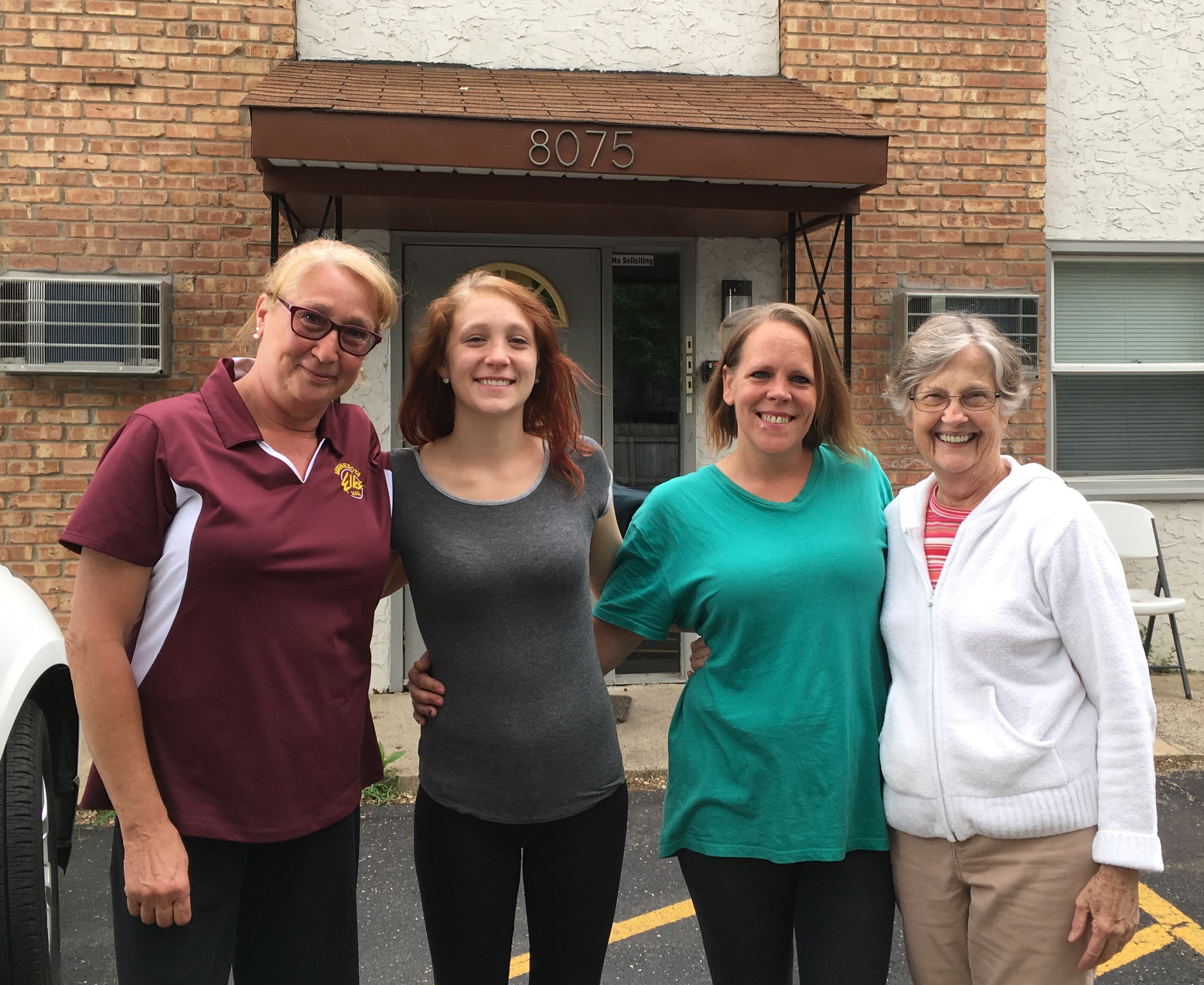 Are you inspired to start your own Welcome Home Kits?
The good news is that you can make this project as extensive as you want. Hopkins lodge is currently doing 10-15 kits a month. If that is too much of a time commitment for your lodge, your program can be on a smaller scale or on a case by case basis. It's estimated to take 3-4 hours a week to make a kit for one veteran.
That's not all!
A full list of FAQ's prepared by the Hopkins Lodge is available here along with a more in depth interview of the Petersons. If you have any further questions about how your lodge can get started, please don't hesitate to contact us at 773-755-4736 or Vets@elks.org. We look forward to receiving your applications and hearing about the tremendous projects that are sure to come!
---
Back to top