Veterans News
A Lifetime of Dedication
Today, many in the Elks know Stewart Israel as an ENVSC Programs Chair, assisting with the VAVS and Adopt-a-Veteran programs at the national level. He's also a VAVS Representative, District Chair and past State Veterans Chair. Still, those titles only scratch the surface of his service.
Israel attended Eastern Michigan University and graduated with a Bachelor of Arts and 2 Master degrees. He taught school for 36 years, and was the chair of the Social Studies department. He has 3 children and 4 grandchildren. Despite all of this, he always finds time to serve.
Isael began volunteering in 1976, helping his father-in-law who was the then Elks Hospital Chair. He was soon appointed Detroit VA Hospital Chair, a position he held until 1983 when he became the Michigan State Veterans Chair. After 3 years he returned to the District Chair position, where one of his main projects is collecting donations for the Michigan Veterans Foundation Homeless Shelter in Detroit.
Israel has also led the Veterans Committee of Plymouth Lodge for the last 38 years. In that time, he started a Christmas gift program for hospitalized veterans in Detroit, Ann Arbor and Battle Creek hospitals, as well as veterans in 3 transitional facilities. For 6 years he and Plymouth Lodge have collected and salted over 260 deer hides per year for the Veterans Leather Program. Israel also leads the Veterans Committee in monthly programs at the hospital which include whole hospital luncheons and ice cream socials.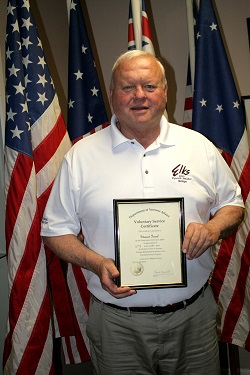 In recognition of this, Israel was recently honored by the Department of Veterans Affairs for providing over 2,700 hours of service. His accolades don't end there. The Detroit Free Press named him Volunteer of the Week. The Michigan State Elks named him Veteran Volunteer of the Year. He was honored by the Plymouth Chamber of Commerce as Elks Volunteer of the Year in 2010. He was named Mason of the Year in 2012 by Plymouth Rock Lodge, and has received recognition from the Scottish American Military Society and the VFW Ladies Auxiliary. Israel also acts as the main speaker for the Plymouth Memorial Day Parade, and speaks at Plymouth Veterans Day celebrations.
We interviewed Stewart G. Israel to give us an inside look at all he has accomplished, and what he wishes to share with other veteran volunteers.
What inspired you to get involved with helping veterans?
At first, it was to help my father-in-law. He was getting older and wanted me to take over. It grew into a love affair. I could see directly how much good I was doing. It balanced out with my religious beliefs… There are two wins for me here. One, I'm doing it for God. Two, I'm doing it for my country.
Describe your experience leading the Veterans Committee of Plymouth Lodge for the last 38 years.
I started off as Hospital Chairman in Plymouth. I bought 60 Christmas gifts, comfort items, for the veterans in the nursing home care unit. It grew to 889 gifts this past year. The only fundraiser I had was "Give Stew Money". The patriotic feeling among the Elks would have them slipping me some money: a $5, $10, or $20. Some of them wrote out checks for $100. I got enough money and bought more presents. There was enough money for the Detroit and Ann Arbor VA hospitals. I bought presents for Battle Creek Hospital as well because I wanted to spend all the money the Elks had helped raised for me. I didn't want it to go towards anything else because it was for the Christmas gift program. We also included 2 veteran homeless shelters. One is a private foundation in Detroit's inner city. The other one is the domiciliary which is the homeless program of the VA hospital. Other things that I've done is I learned about the former POW program which occurs at every VA, but not too many people know about it. The past 3 years I've been working with former POW's at both Detroit and Ann Arbor VA hospitals. What I do for them is help sponsor their picnic. I invite them to the Plymouth Ann Arbor Elks Lodge for steak dinners twice a year. We had about 130 people come this year. Nothing says thank you like "I'm going to buy you a steak dinner".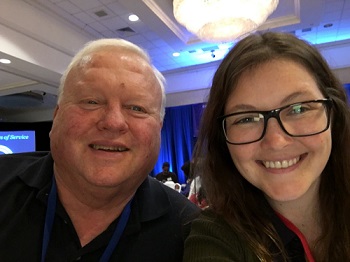 What did you want to get out of volunteering? Did you have a specific end goal in mind?
It was to feel good about myself. I feel good. It appeals again to my Christianity and my patriotism. I taught social studies, American History and Government, for 36 years and that gave me a good understanding of our constitution and our government. I believe in the American way of life. Since I volunteered at a VA hospital, I've seen first-hand, visually, the price of freedom and I appreciate what those guys have done.
How did it feel to be honored by the veteran's administration for over 2,700 hours of service?
That's a good accomplishment and tells me that I should do more. I want to hit that 3,000 mark.
Are there any specific stories from volunteering with veterans that you would like to share?
The most memorable story that I have is when my wife passed away 9 years ago. We were having a memorial service at church for her and my daughter comes running up and she says, "Dad there's a bus load of Vietnam vets here." I knew who it was. They were veterans from the veterans' homeless shelter. Their leader brought them all out to pay their respects to me at a time of loss. What I've given them… I've never expected them to pay me back, but they did. They paid me back and well into the future. It still brings tears to my eyes when I think about that.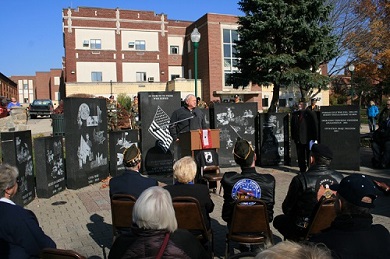 Is there anything that you want other veteran volunteers or prospective volunteers to know or understand?
We all profess our patriotism. Let's put our actions into effect. We have got to work and do things. These veterans have earned our respect. If you're not a veteran like myself, then it may be hard to understand all that they have sacrificed. They are the ones who signed up and served. We have to look after the ones wounded in mind, body and spirit. So whether it's a wound from a bullet or it's PTSD, which often comes with mental illness and drug dependency, they deserve our help and we as Elks have to continue to step forward. One thing that I also like to tell people is if it wasn't for the Elks, I would only be one person. The Elks have given me financial power and man power. One person can't put on an ice cream social, but there were 18 of us at the hospital today. The impact of our volunteering multiplies when we do it together.
Do you have any big plans for the future/anything in the next year?
I don't have anything really specific. Detroit's going to be hosting the National Golden Age Games this year, which is like a Senior Olympics for veterans. That's going to be a major concentration this summer. I want to spread the word on helping homeless veterans and expand the programs. What I fear the most is that if anything happens to me, my whole program at the local level in hospitals, is going to die. I'm trying to find someone to co-lead with me and that's not the easiest job. People don't want to commit the time or the leadership. I'd love to find someone to take over for me when I'm gone because I don't want my programs to die.
---
Back to top