Having a Ball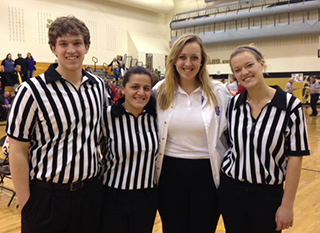 When the Denver-area Elks scholars discovered an Elks National Foundation Regional
Hoop Shoot contest
was being held in their backyard, they were eager to lend a hand and volunteer with their Elks family.
Bright and early on a snowy Saturday morning, Elks Scholar Advisory Board member Macy Warburton and three Denver-area Elks scholars—2010 MVS scholar Elizabeth Petersen, and 2013 MVS scholars Isaac Baldwin and Nadeen Ibrahim—arrived at the gym ready to serve.
The 8 to 13-year-old contestants who worked so hard to make it to the Regional Contest were ready to step up to the line, and the Elks scholars were there to help, serving as rebounders during the contest. The scholars were amazed at the focus, determination and good sportsmanship of the contestants.
"I loved watching joy spread across the faces of each and every one of the kids as they stepped up to participate in the contest," says Elizabeth. "They were so excited and truly gave every shot their best effort. They even reached out to encourage each other throughout the contest."
When the contest wrapped up and the regional champions were crowned, the Elks scholars left with a deeper connection to their Elks family.
"It was my first time participating in the Elks Regional Hoop Shoot, and I loved it!," says Nadeen. "The Elks members were so welcoming, and it was an honor to meet them in person. The Regional Hoop Shoot allowed me to truly experience the values of the Elks, and I am honored and proud to be an Elks scholar."
No matter where they go the country, Elks scholars can get involved with their Elks family.
"As an Elks scholar from Arizona, it was amazing to work alongside Elks members from Elks Lodges all across the region," says Elizabeth.
They look forward to staying involved with each other and getting together again soon!
Stay tuned to the ENF website for more stories of Elks scholar service as several Elks Scholar Advisory Board members will travel to Springfield, Mass., to volunteer at the National Hoop Shoot Finals on April 12.
The Elks National Foundation provides $3.74 million in college scholarships each year. Today's Elks scholars can be tomorrow's Elks. Be sure to include Elks scholars from your Lodge in Lodge events and service projects. For more information about our scholarship programs, and for ways Lodges can get involved with Elks scholars, visit www.elks.org/enf/scholars.
---
Back to top