The Lindstedt Legacy
Like any legacy, Sydney Lindstedt comes from a long line of Elks. Both her grandfathers are Elks, one of whom is a charter member of Cozad, Neb., Lodge No. 2250, her sponsoring Lodge. Her father is an Elk, too.
Many of Sydney's milestones in her life and those closest to her—baby showers, graduation parties, and special dinners—were celebrated at the Lodge. There's one memory that especially glued itself to Sydney.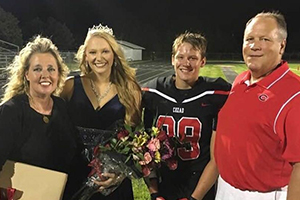 "I ran to the dance floor with all my friends to dance my heart out to a song I requested," Sydney shares. "People surrounded me and cheered me on as I did what I loved, and then they wished me a happy birthday at midnight."
This moment reminded Sydney of how supportive other Elks are, and now they have another reason to cheer Sydney on as she officially represents the Elks as a 2019 Legacy Awards scholar.
"Joining the Elks family holds great significance," Sydney says. "I'm very grateful to have received this honor and hope to honor those who have made this award possible."
Sydney is majoring in finance and accounting at the University of Nebraska-Lincoln. Upon graduation, she hopes to become a financial advisor with a focus on retirement investments accounts. And before all that happens, she plans on staying involved with the Elks.
"I'm going to start by volunteering with the Hoop Shoot because it's very near and dear to my heart," Sydney says.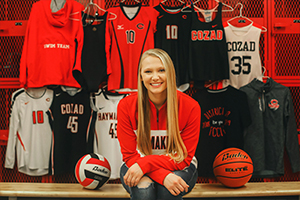 Sydney competed in the Hoop Shoot when she was a kid and can attest to the positive affect the program has on the youth who participate. She looks forward to joining the army of Elk volunteers as they build stronger communities and create opportunities for children through programs like the Hoop Shoot.
She hopes to accomplish all this and more as a Legacy Awards scholar.
"This scholarship will allow me to increase my involvement and volunteerism with the Elks," Sydney says. "I'm looking forward to continuing my relationship with my local chapter and beyond."
For 2019-20, the Elks National Foundation allocated $1.4 million to fund 300 Legacy Awards scholarships for the children and grandchildren of Elks. If you know any Elks children who are high school seniors, encourage them to visit enf.elks.org/leg for information, including eligibility and deadlines.
---
Back to top