Caleb Grinberg Scores Legacy Award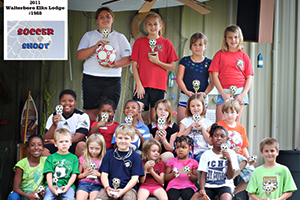 It's time to get to know the members of the 2019 Legacy Awards class! First up is Caleb Grinberg, sponsored by Walterboro, S.C., Lodge No. 1988. Caleb has been around Elks for as long as he can remember. He remembers tagging along with his father, who's a member of the Lodge, when he was a kid, and he looks forward to creating new memories there as an Elks scholar.
"Growing up, my family and I spent a lot of time during the summer together and with other community members at the Lodge's pool," Caleb shares. "They're some of my fondest memories from growing up."
Caleb was involved with the Elks Soccer Shoot Program until high school but had to stop due to scheduling conflicts. However, he still has love for the game and hopes to start a connection with an Elks Lodge near Clemson University so he can volunteer to run the program.
"Soccer is one of my passions and being able to share it with others is so much fun and a great way to meet people with similar interests," Caleb says.
Caleb plans to enroll in the engineering program to study computer science, a field that will allow him to research, design and develop computer systems. Eventually, he wants a career that will allow him to follow his passion and make a difference in the world. But for now, he's excited to start his journey as an undergraduate student, thanks in part to the Elks National Foundation.
"I'm so excited to begin my college career," Caleb says. "Thank you so much for this amazing opportunity."
For 2019-20, the Elks National Foundation allocated $1.4 million to fund 300 Legacy Awards scholarships for the children and grandchildren of Elks. If you know any Elks children who are high school seniors, encourage them to visit enf.elks.org/leg for information, including eligibility and deadlines.
---
Back to top