The anschluss meetings of our Lodge were held at the American Legion in December of 1963, and January-February of 1964. John D. Kormendy Jr., Charles S. Boxwell, Raymond Knierim and 49 others on the 13th day of February 1964 were granted a dispensation for a Lodge to be known as South Plainfield Elks Lodge #2298. Our Lodge was instituted at the South Plainfield High School Gym March 1, 1964. Chartered Officers: John D. Kormendy Jr. ~ Exalted Ruler James Kane ~ Esteemed Leading Knight William A. Keyes ~ Esteemed Loyal Knight James E. Hanlon ~ Esteemed Lecturing Knight Norman H. Geller ~ Secretary Walter Flannery ~ Treasurer John George ~ Justice John Cotone ~ Esquire Raymond Knierim ~ Chaplin Peter H. Capp ~ Tiler James Cannon ~ Inner Guard Daniel Colangelo ~ Organist Robert Y. Strang ~ 1 Year Trustee John McCorid ~ 2 Year Trustee Louis DeFillipo ~ 3 Year Trustee Robert M. Houston ~ 4 Year Trustee Charles S. Boxwell ~ 5 Year Trustee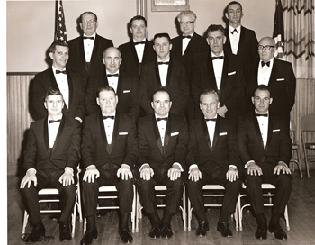 Front Row Left to Right: James Hanlon, William A Keyes, John D. Kormendy Jr., James A. Kane, John Cotone Second Row Left to Right: Ray Knierim, Louis A DeFillipo, James Cannon, Robert M. Houston, James S. Boxwell Rear Row Left to Right: Peter H. Capp, Walter Flannery, Daniel Colangelo, Norman H. Geller Missing: Robert Strang, John McCorid, John George. The first general Meeting was held on the first Thursday of that month at the V.F.W. Our first home was Kanes Bar. We re-did the entire first floor of the building. Over time the owner would not do any repairs on the building so the building was torn down. While we looked for another home we met at Bellews on Thompkins Avenue. We also met at Ceasars, better known as Spissos, on the second floor ...
which is the location of our Lodge at the present time - 1254 New Market Avenue, South Plainfield. In 1972 we bought Devoe's old house which we completely remodeled inside. This was up the street on New Market Avenue approx. 3/10th of a mile from our existing building. This became our second home.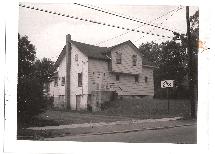 In 1982, we swapped a piece of land that we owned with a Belmont Avenue parcel owned by the borough, for which we intended to build a new Lodge. In the meantime we rented the land from the borough. Then after some time, instead of building a new Lodge we decided to buy a building and convert it. So we sold the parcel of land in order to raise money for the purchase. Our third and present home at 1254 New Market Avenue was bought back in 1988 and the entire bar and back room were completely gutted and re-done. The back house was also renovated into office space. Our Lodge has been through three floods and we always manage to get back on our feet with the help of our dedicated members.

We have a great club ... presently three hundred and forty members, and we are still going strong. This history page was outlined by John Kormendy, PER, researched by Debra Shuleski, PER, 2008-2009 and Richard Trexler member and great Historian. John Kormendy, PER (1964-65, 1968-69) Charter and Honorary Life Member(March 3, 1976) Debra Shuleski, PER (2008-2009) and Richard Trexler a Member of Benevolent Protective Order Of Elks for 29 years May he rest in peace (4-2-1939 to 6-8-2008)