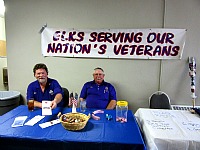 Although the number of homeless veterans has significantly declined in recent years, the Department of Veterans Affairs estimates that on any given night nearly 50,000 veterans are homeless nationwide. Homeless veterans suffer from many illnesses such as PTSD, Traumatic Brain Injury and other problems due to combat. For veterans, homelessness can aggravate current illnesses making it more difficult to access needed resources and regain the ability to support themselves.
Recognizing a need to support homeless veterans in their community, Loveland, Co., Lodge No. 1051 decided to start a Stand Down to reach out to homeless and at-risk veterans in Larimer County. Using a Beacon Grant, the Lodge partnered with nearly 20 community and government agencies such as the American Red Cross, the VA Homeless Response Team and Volunteers of America to host its first annual Stand Down. The event was held at the Lodge and served more than 50 veterans through free dental and medical screenings, haircuts and massages. Partner agencies also provided assistance in obtaining veteran benefits, housing and employment. At the conclusion of the event each veteran was offered an Army surplus duffel bag filled with clothing and personal items.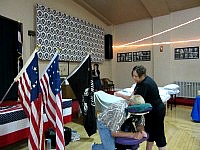 "More than 30 Elks volunteers pitched in to make the event a success and everyone wants to do it again," says Project Manager Janet Limbeck. "We even received three new members and a reinstatement!"
Community support was overwhelmingly positive. For their efforts, the Department of Colorado American Legion honored the Lodge with a plaque for the organization's "continuous and generous support to the veterans in the community," making it one of only two organizations to receive the award this year.
Through Beacon Grants, the Elks National Foundation gives Lodges the opportunity to develop an ongoing, charitable, Elks-driven community project. These $2,000 grants are available to all Lodges. To find out more about Beacon Grants and the Community Investments Program, visit www.elks.org/enf/community.
---
Back to top