Every Lodge is eligible for a $2,000 Beacon Grant. The Beacon Grant is an opportunity for Lodges to start a new, ongoing, Elks-led charitable project. Here are a few of the best Beacon Grant Examples from the past year.
Youth
Omaha, Nebr., Lodge No. 39: The Omaha Lodge partners with Completely Kids, a local organization that serves youth and families in need, to provide a fun and educational field trip. The Lodge brings sixth graders from the Completely Kids program to a local ropes course challenge which gives them a new, active experience. The Lodge also organizes a Drug Awareness Quiz for lunch time.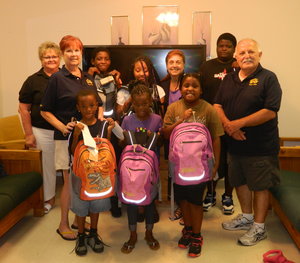 Dover, Del., Lodge No. 1903: During June and July, Dover Elks meet with families at the local homeless shelter, The Shepherds Place, to provide assistance for school-age children. At each appointment, the Elks provide backpacks and school supplies to homeless youth. In total, the Lodge plans to assist up to 70 children.
Manistee, Mich., Lodge No. 250: Manistee Lodge partners with SafeNet, a collaborative effort between the local school district and a community mental health agency, to provide a golf clinic for local youth. SafeNet focuses on providing at-risk elementary and junior high school students with meaningful summer
activities and the Lodge's golf clinic
is a hole-in-one!
New London, Conn., Lodge No. 360: The Lodge provides winter coats and boots for teens identified by the local Youth Services center. The Lodge has eight members who shop and purchase items according to sizes and needs, with supplies to be distributed at the center.
People with Disabilities
Lockport, N.Y., Lodge No. 41: For the past three years, the Lockport Lodge has partnered with Challenger Sports Program to provide activities for youth with mental and physical disabilities. In the fall the Lodge plans a Halloween party and in the spring the Elks organize a bowling tournament. Over the course of the year, 30 Elks volunteer with this project.
Veterans
Seattle, Wash., Lodge No. 92: Annually, the Seattle Standdown provides assistance to veterans and families who are either homeless or at-risk of becoming homeless. The Seattle Lodge provides breakfast at the event and also collects supplies—such as sleeping bags, coats, and backpacks—to stock to the Standdown's "Gear Room".
Galveston, Texas, Lodge No. 126: More than 50 Elks and the Wounded Heroes of Texas organization provide activities on the water for recently returned and recovering veterans. The Lodge coordinates with the North Texas Veterans Administration to identify veterans' needs and provide the best experience for those they are serving.
Tenafly, N.J., Lodge No. 2271: Veterans moving from transitional homes to a permanent residence can rely on the Elks for a kick-start to their new chapter. The Tenafly Lodge packs boxes filled with necessary household items like pots, pans, sheets, dishes and towels and then gives them to veterans before their big move. The Lodge works with the local transitional shelter and Bergen County Veterans Service organization to identify veterans in need.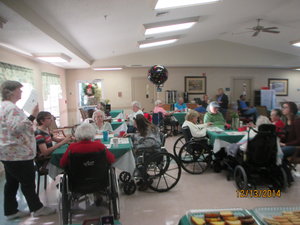 Seniors
Elberton, Ga. Lodge No. 1100: Each week 10 to 15 Elks visit the local senior center for "Senior Sundays". The Elks provide meals for low-income seniors enrolled in the center's lunch program. The Senior Center Director helps the Lodge identify seniors who are in need of the program. Elks who are unable to donate their time to serve meals can be involved by donating non-perishable food.

Safety
Burlington, Iowa, Lodge No. 84: In partnership with the local Fire Department, the Burlington Lodge provides smoke and carbon monoxide detectors during National Fire Safety week. With the assistance of the fire department, the Lodge identifies neighborhoods in need of detectors. Then, every weekend in October, the Lodge goes door to door checking equipment, replacing batteries, and providing detectors for people in need.
General Needs
Dallas, Texas, Lodge No. 71: The Dallas Lodge works with shelters, nursing homes and youth centers to identify individuals in need of winter wear. Then, the Lodge uses grant funds to purchase flannel and wool which members crochet into hats and scarves.
El Reno, Okla., Lodge No. 743: Twice a month during the summer, El Reno Lodge hosts the "Stronger Living" project focused on providing milk and eggs for local families in need. Members meet with representatives from the school district, local summer food program, and veterans organizations to identify people in need. The Lodge decided on this use of funds because 70 percent of students in the school district are eligible for free or reduced lunch.
Through Beacon Grants, the Elks National Foundation gives Lodges the opportunity to develop an ongoing, charitable, Elks-driven community project. These $2,000 grants are available to all Lodges. To find out more about Beacon Grants and the Community Investments Program, visit www.elks.org/enf/community.