Community Investments Program
Beacon Grants
give Lodges the opportunity to establish reliable projects that serve local needs. Portland-Milwaukie, Ore., Lodge No. 142 is an excellent example of how Lodges can use Beacon Grants to create a positive, ongoing change for local youth.
For the past three years, the Portland-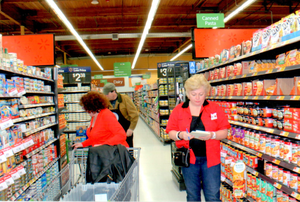 Milwaukie Elks have used a Beacon Grant to provide food for youth in need. The Lodge partners with a local elementary school to identify youth who are in need of food during weekends and holidays and then delivers backpacks on a weekly basis.
Proudly sporting their Elks shirts, 10 Elks volunteers visit the local grocery store at the beginning of the year to purchase nutritious nonperishable food. Then, every week, the Elks pack and deliver backpacks to the school for the weekend.
Lasting Support
The project has become a staple at the Lodge and the community is taking notice.
"We are so happy with the response from the school and community staff," says CIP Project Manager Janet Blaschke. "Folks see us and ask what we are doing. It's great to know we are helping to feed so many kids."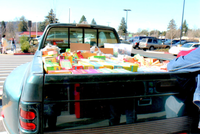 In addition to the Beacon Grant funding, the Lodge also hosts fundraisers and collects donations throughout the year which allows them to purchase more food.
"The Lodge supports this project 100 percent," says Blaschke. "We will be doing this again next year!"
Through Beacon Grants, the Elks National Foundation gives Lodges the opportunity to develop an ongoing, charitable, Elks-driven community project. These $2,000 grants are available to all Lodges. If your Lodge has not received the Beacon Grant yet this year, apply soon! Beacon Grant applications are due by March 31. To find out more about Beacon Grants and the Community Investments Program, visit www.elks.org/enf/community.