Spring has sprung, and thanks to Skowhegan-Madison, Maine, Lodge No. 2531, this year it will bring fresh produce to low-income families, seniors and students in need.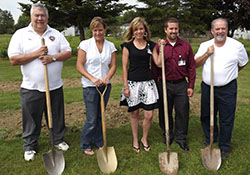 Elks used a Gratitude Grant to partner with the local Parks and Recreation Department to purchase the materials, construct the large community vegetable garden, and plant the first seeds of the season. Every spring, the Parks Department's "master gardener" helps community members young and old get into the dirty work of gardening. This isn't the first time the Lodge has reached out to community members in need—hunger is an issue the Lodge has always been passionate about.
"In past years, we've made donations to food pantries," says CIP Project Manager Mike Lange. "This year, we were looking for another way to address hunger issues, but on a long-term basis."
The Elks National Foundation helps Lodges serve their communities by offering $2,000 Gratitude Grants. Lodges are eligible to apply for Gratitude Grants after meeting the National President's $4.60 per-member goal for giving to the Foundation. To find out more about Gratitude Grants and the Community Investments Program, visitwww.elks.org/enf/community.
---
Back to top