Summer may still be a few months away, but some veterans in Massachusetts are already dreaming of a warm and inviting fishing trip with friends. They can count on the Elks to get them out on the water, year after year.
In partnership with local organizations Quincy, Mass., Lodge No. 943 reaches out to area VA hospitals and local Disabled American Veteran groups to bring more than 200 veterans with disabilities together for the event. Elks offer the use of their boats, and the Lodge uses its Gratitude Grant to purchase fishing supplies and lunch for all veterans.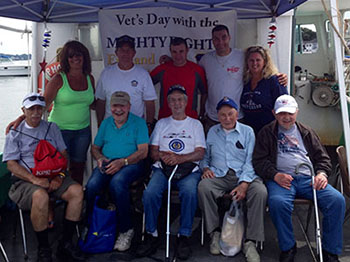 More than 100 volunteers come out to help, and the Elks partner with many other organizations to make the trip happen.
"We have veterans that look forward to this day all year long," says CIP Project Manager Sean McArdle. "They start calling in January. This is the very least we can do to show our disabled veterans we appreciate the sacrifices they have made to keep us a free nation."
The Elks National Foundation helps Lodges serve their communities by offering $2,000 Gratitude Grants. Lodges are eligible to apply for Gratitude Grants after meeting the National President's $4.60 per-member goal for giving to the Foundation. To find out more about Gratitude Grants and the Community Investments Program, visit www.elks.org/enf/community.
---
Back to top