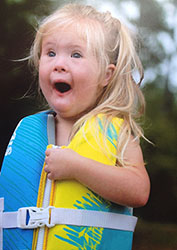 For many, a week at camp is a cherished, yearly tradition. For children and adults with disabilities in Mississippi, they have Hattiesburg, Miss., Lodge No. 599 to thank for making that happen. Each fall, the Elks partner with the Abbie Rogers Civitan Camp to provide up to 100 children and adults with disabilities with a weeklong camp experience.
Elks use their Gratitude Grant to sponsor campers in need and join in the fun by volunteering. Elks captain and crew pontoon boat rides, and take the lead on all arts and crafts lessons. Of course, Elks also make sure the cookouts are done right.
The Elks National Foundation helps Lodges serve their communities by offering $2,000 Gratitude Grants. Lodges are eligible to apply for Gratitude Grants after meeting the National President's $4.60 per-member goal for giving to the Foundation. To find out more about Gratitude Grants and the Community Investments Program, visitwww.elks.org/enf/community.
---
Back to top