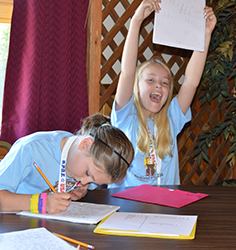 Watch out Stephen King. The state of Maine may soon have some new famous writers, thanks to Rockland, Maine, Lodge No. 1008. Elks partnered with local teachers and writers to hold a three-day creative writing camp for students in 4th through 6th grade. Twenty-six aspiring young writers attended, and honed their skills at writing fiction, poetry, news stories and more.
The unique project was inspired by the Beacon Grant.
"There are sports camps and cheer camps," says Project Manager Bill Bachofner. "We thought, why not support improving children's writing skills?"
A Shining Example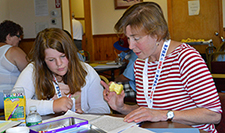 Local teachers and writers took to the idea right away, and many came out to help. With their assistance, the camp was a critical and commercial success, with kids and parents alike singing its praises.
"The kids and their parents were thrilled with the opportunity afforded to them by the camp," Bachofner says. "The parents were impressed with the almost private tutoring the professional writers provided to the children. The children experienced a challenging and rewarding skills camp."
One of those teachers was Rockland Poet Laureate Carol Bachofner, who has high hopes for the potential future laureates. "We saw some amazing work being done by the students, and want to make sure they have an opportunity to keep it going," says Bachofner.
The Extra Mile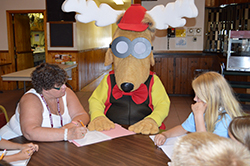 The Lodge does indeed plan to keep the project going, and expand this coming summer by adding more students to the existing camp and holding a second camp for older teens.
As of press time, there was no comment from Stephen King but there were unsubstantiated reports that his next novel, The Protégé, will be out next week.
Through Beacon Grants, the Elks National Foundation gives Lodges the opportunity to develop an ongoing, charitable, Elks-driven community project. These $2,000 grants are available to all Lodges. To find out more about Beacon Grants and the Community Investments Program, visit www.elks.org/enf/community.