When several Elks from the Green Bay, Wisc., Lodge No. 259, who coach for the Southwest Area Girls Softball League, noticed that some girls were registering without proper equipment or funds to participate, they stepped up to the plate.
With the help of the Lodge's Community Investments Program Beacon Grant, Green Bay Elks organized softball clinics to teach preteen girls from low-income areas the fundamentals of the game and provide basic equipment.
Play Ball
The Elks were hands-on in the field teaching the girls new skills. Other members prepared the fields, purchased and distributed equipment, and organized a picnic for everyone in attendance. The athletes, who may not have had this opportunity without the help of the Elks, were extremely grateful for the Lodge's generosity.
"To see the smiles of the girls as they were given equipment and a uniform was priceless," explains ENF Grant Coordinator George Harper. "Many of the girls went around hugging the members in thanks for making this possible."
Grant Slam
In total, the Lodge helped 40 girls through the clinics and these girls are now part of the softball league.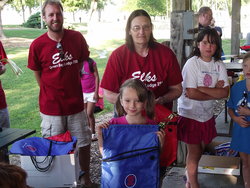 As a result of the clinics, several new Lodge members became more actively involved and the project inspired community members to apply for Lodge membership. The Lodge plans expand the project next year, hoping to make softball available to all local girls.
"The Beacon Grant allowed the Lodge to spread the word that there is an organization that cares," shared Harper. "It allowed the Green Bay Elks youth activities to grow and reach more kids in the community."
Through Beacon Grants, the Elks National Foundation gives Lodges the opportunity to develop an ongoing, charitable, Elks-driven community project. These $2,000 grants are available to all Lodges. To find out more about Beacon Grants and the Community Investments Program, visit www.elks.org/enf/community.