Casting their hot dogs and popcorn aside, the fans at the Birmingham Barons game jumped to their feet and cheered wildly. No, it wasn't because the Barons scored a game-winning run. This time, 93-year-old World War II Navy veteran J.R. Carmichael brought the crowd to its feet—with all 2,500 fans wishing him a resounding happy birthday.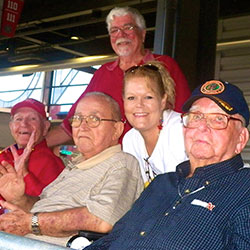 If it weren't for the Elks, Carmichael wouldn't have had the birthday of his life. Nor would the more than 20 other veterans who attended the baseball game, all of whom live at the Colonel Robert L. Howard State Veteran's Home, have experienced this great American pastime. Luckily, with the help of an Elks National Foundation Beacon Grant, Elks from Cahaba Valley, Ala., Lodge No. 1738 hit a home run by serving local veterans in need.
A Patriotic Beginning
The project began at a Fourth of July barbecue, where project manager Leon Johnston and six other members of the Cahaba Valley Elks pitched in at nearby Pell City, Ala., Lodge No. 2818's picnic for these veterans. While helping serve the meal, Johnston spoke with a representative from the Colonel Robert L. Howard State Veteran's Home.
"That got us clued into how eager the facility was to have activities for their residents," Johnston explains. "They are always looking for things for the veterans to do."
Batter Up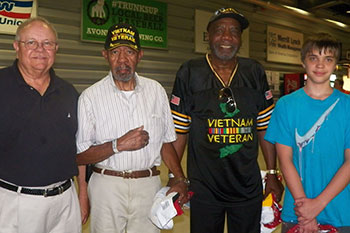 Fast forward to game day, where the veterans, their caretakers, and more than 20 Elks cheered the Barons on to a win. The team even recognized the veterans for their service on the scoreboard. Each veteran left the game with a Barons' jersey to remember the evening.
"The chance to take these veterans out and visit with them was priceless," says Johnston. "It was the perfect American night out at the ballpark with a couple dozen veterans and some dedicated Elks. We will do this every year!"
This is one baseball game we at the ENF will be sure to follow next season!
Through Beacon Grants, the Elks National Foundation gives Lodges the opportunity to develop an ongoing, charitable, Elks-driven community project. These $2,000 grants are available to all Lodges. To find out more about Beacon Grants and the Community Investments Program, visit www.elks.org/enf/community.