Last summer, the ENF announced a partnership with the USO in support of the
Joining Forces Initiative
led by First Lady Michelle Obama and Dr. Jill Biden. Joining Forces is a national initiative that mobilizes all sectors of society to give our service members and their families the support the opportunities and support they've earned.
Then-GER Michael Smith said of the Elks partnership, "Being a part of this maximizes the support, care and comfort nearly 900,000 Elks members in more than 2,000 communities can provide."
Paying it Forward
Oregon City, Ore., Lodge No. 1189 took this sentiment to heart. The Lodge used its pilot program Beacon Grant to help veterans get a college education. Elks got together with Clackamas Community College to establish a "Pay it Forward" fund for veterans. The fund is designed to allow veterans in need to apply for a one-time grant, intended to help them return to college.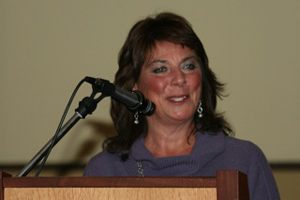 Elks and members of the college's Veterans Club partnered with community groups to start the program. Elks helped plan and publicize the kick-off event, and purchased and cooked all the food for the fundraiser, which was held at the Lodge. The event, which featured music, great food and appearances by senators and members of congress, was a success—they raised $17,500 for the fund!
(At right, Oregon State Senator Martha Shrader speaks at the event.)
An Example of Service
"Our community and guests were impressed with what our Lodge did," says Project Manager Ken Kraft. "Several community members took membership applications."
Sounds like the Elks are joining forces with some new members. Click here to read local coverage of the event. Then, visit our Beacon Grant webpage to learn more about the newest CIP grants, available to every Lodge starting July 1. What big things can your Lodge do with this grant?
Through Beacon Grants, the Elks National Foundation gives Lodges the opportunity to develop an ongoing, charitable, Elks-driven community project. These $1,000 grants are available to all Lodges. To find out more about Beacon Grants and the Community Investments Program, visit www.elks.org/enf/community.