Little Library with the Lodge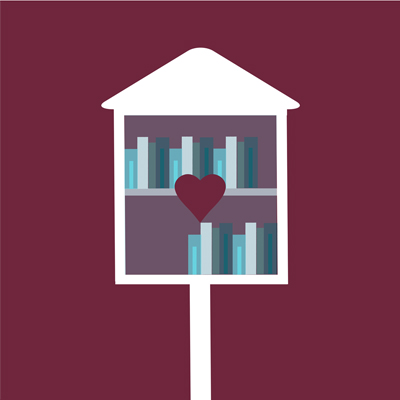 Whether Elks are putting on a back-to-school event, providing support to kids in the foster care system, supplying weekend meals for students, or any number of other great projects, #ElksAlwaysCare for children in need. Children's literacy is no exception. Due to COVID, many Lodges have had to refocus their favorite literacy projects and find new and exciting ways to engage children in their communities. Milwaukee, Wis., Lodge No. 46 had to reconsider how to distribute reading materials to make its Gratitude Grant project safe and accessible.
Inspired by the Little Free Library program, the Milwaukee Lodge set its sights on a little library of their own. Elks volunteers are building little libraries in different areas of the community and stocking them with books for children and families to borrow, read and swap out. Small, free libraries make reading materials accessible for children, even those whose families may not have access to reliable transportation to the public library or the funds to buy books.
"We hope that this project will improve reading comprehension and literacy rates by making books more available to not only children to read themselves, but for parents to read to infants and pre-school aged children," says Elisabeth Mulvany, Leading Knight for the Lodge.
Now more than ever, it is imperative to provide support and reading opportunities to children in need. According to recent study in the United Nations News , the rate of children who are experiencing difficulty reading has increased more than 20 percent in the past year due to the pandemic and subsequent school closures. And, Little Free Library cites that two out of three children living in poverty have no books to call their own. Providing accessible reading materials for children and families is the first step toward improving literacy rates.
If your Lodge is looking to work on children's literacy in your community, the possibilities are plentiful. Here are a few examples of how Lodges have fostered literacy in their communities: Warm Welcome to the Library Project, the Community Baby Shower Project, and Orange, Calif., Lodge No. 1475's Reading Promise Program.
Every Lodge and community is different, and Milwaukee's Mulvany encourages other Lodges to find a project that works for them.
"There are so many ways to encourage literacy—contests, summer reading challenges, book exchanges, storyteller sessions for children, giving books as gifts, volunteering as tutors, or hosting 'reading clinics' for kids," Mulvany says. "Instilling the importance and fun of reading is more important than ever."
For more information on our available grants and their guidelines, check out our Grant Toolkits. If you have any questions about literacy projects or any other grant projects, the CIP can be reached at 773/775-4730 or LodgeGrants@elks.org.
The Elks National Foundation helps Lodges serve their communities by offering Gratitude Grants of up to $3,000. To find out more about Gratitude Grants and the Community Investments Program, click here.
---
Back to top