Spotlight on the Spotlight Grant: Welcoming the Warm Welcome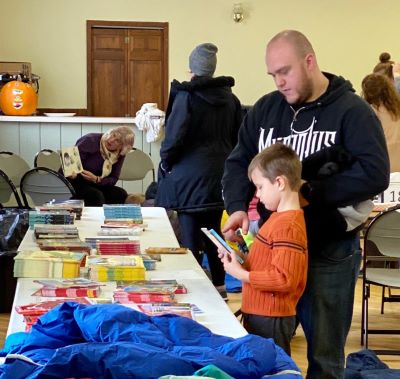 In November, Homer, N.Y., Lodge No. 2506 used their Spotlight and Beacon Grants to host a Warm Welcome to the Library project at their local library. Warm Welcome to the Library encourages Lodges to bridge the gap between families in need and their local library while providing children with winter coats. Working with organizations that focused on foster families and other children in need, the Homer Lodge provided almost 200 children with books and winter coats while introducing them to all the programs and amenities the library has to "author."
To maximize their impact, the Homer Lodge split the project into two separate events, but they ensured the two occasions were cut from the same cloth. First, they held a sizing event at the library to get the children properly fitted for coats and signed up for library cards. At this event, the Elks and librarians created interactive scavenger hunts for kids around the library itself, so they could get better acquainted with the facility while they waited to get sized.
Once the children were fitted, members of the Homer Lodge ordered from Operation Warm, the nonprofit affiliate the CIP highly recommends to conveniently procure the coats needed. When the coats were received, the Elks hosted a distribution event at their Lodge for the children to get their brand-new coat along with two new books to foster their love of reading. The Homer Lodge also provided each family with a hot meal. Members and librarians who attended the event then read to the children while the families broke bread.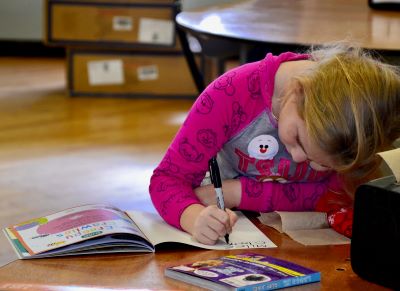 Matt Barnes, the Grant Coordinator of the Homer Lodge, declared the event a rousing success.
"Distributing coats and books to the youth in need while providing a hot meal to the families successfully helped our Lodge further its image in the community as partners who can and do provide meaningfully for its needs," Barnes said.
Help children in need seize the day by applying for the Spotlight Grant! As always, your Lodge can get the most bang for your "book" by combining your project with a Beacon and/or Gratitude Grant. Be a "reader" of the pack and apply today!
Operation Warm provides warmth, confidence and hope to children in need through the gift of brand new winter coats. Through serving millions of children in need across North America, Operation Warm proves that a brand new coat offers a child physical and emotional warmth, confidence to socialize and succeed, and hope of a brighter future.
Through Spotlight Grants, the Elks National Foundation provides Lodges with the opportunity to sponsor this program, along with six other project plans to shine a light on two important issues facing nearly every American community—family literacy and homelessness among our nation's veterans. These $2,000 grants are available to all Lodges. To find out more about Spotlight Grants and the Community Investments Program, visit enf.elks.org/SpotlightGrant.
---
Back to top