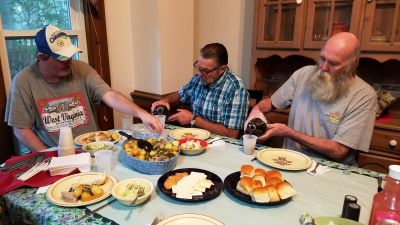 Last April, Lebanon, N.H., Lodge No. 2099 was one of the first Lodges to be approved for the new Spotlight Grant, specifically, for an Adopt-a-Haven project. To fit within the parameters of Adopt-a-Haven, the Lebanon Elks cooked up a plan to work with Harbor Homes, the local veterans' homeless shelter, to provide weekly cooking classes and subsequent meals to veterans experiencing homelessness.
Of the seven "off the shelf" projects offered under the Spotlight Grant, the Adopt-a-Haven project is one of the most open-ended. The goal: to make homeless shelters serving veterans a more positive place. Lodges have a chance to provide Elks-led maintenance projects, dinner services, workshops, or any other regular social event for veterans in order to achieve that outcome. In one fell "soup", the Lebanon Elks accomplished all four of these qualifiers through their cooking workshops.
The Lodge renovated and furn-"dished" the kitchen of Harbor Homes with new equipment, which they then used at their weekly healthy cooking workshops. After preparing the food, the Elks and veterans sat down, talked and joked, and feasted on the fruits of their labor. The Elks were able to give these veterans a "penne" for their thoughts and provide the social interaction needed to make Harbor Homes an educational, social and positive haven.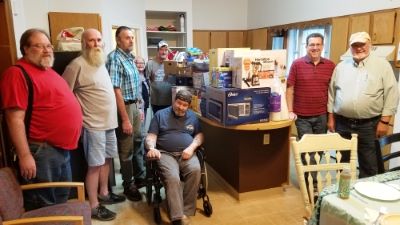 From the beginning, Grants Coordinator Martha Ilsey understood the importance of this project in the grand "steam" of things and recognized the Spotlight Grant as a recipe for success.
"This project was successful in providing veterans—especially those with chronic conditions—the tools to lead healthier lives," Ilsey said.
To put on your own social events at a veterans' homeless shelter, apply for the Spotlight Grant! "Roast" assured, your Lodge is still able to combine the Spotlight Grant with a Beacon and/or Gratitude Grant to supersize your impact. But "curry"—applications close on December 31. "Rice" to the occasion and apply today!
Through Spotlight Grants, the Elks National Foundation provides Lodges with the opportunity to sponsor this program, along with six other project plans to shine a light on two important issues facing nearly every American community—family literacy and homelessness among our nation's veterans. These $2,000 grants are available to all Lodges. To find out more about Spotlight Grants and the Community Investments Program, visit enf.elks.org/SpotlightGrant.