Spotlight on the Spotlight Grant: Check Out the Imagination Library!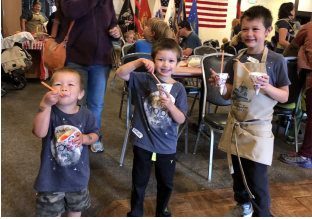 In September, Sitka, Alaska, Lodge No. 1662 used its Spotlight Grant to host a registration event for the Imagination Library, an organization that sends a free hardcover book to enrolled children every month from birth until age five. Lodges are encouraged to use a portion of the Spotlight Grant funds to host a registration event and the bulk of the funds to sponsor the participants for the Imagination Library. The Sitka Lodge went with a carnival-themed registration event and registered 102 children.
Featuring circus-themed food, party favors, books, and entertainment in the form of clowns and face-painters, the Sitka Lodge tested out the "pigments" of the children's imaginations. The Elks facilitated carnival games, organized craft stations, and read to all the children and parents attending the event to showcase that a love of books and literacy is "bound" to happen if you start early enough!
The Sitka Lodge hosted the registration event to bolster membership in the free program and to provide a space for positive social interaction between children in need and their caregivers.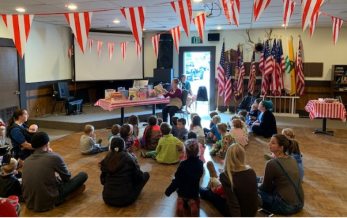 "The Tots' Carnival provided an opportunity for social connections, a protective factor that strengthens families and, in turn, creates healthy families in our community," Grant Coordinator Judi Blankenship said of their registration event. "The Elks read carnival-themed books to children during story time, and afterwards, we gave a brief talk about the importance of reading to children and how the act enhances brain development and gets children ready for kindergarten. Caregivers who read with their children are strengthening their parent-child connection."
Overall, the Sitka Lodge showed that a little went a long way for this exceptional Dewey Decimal spectacle!
To register children for the Imagination Library and help progress family literacy in your community, please apply for the new Spotlight Grant! Consider combining it with a Beacon and/or Gratitude Grant to supersize your impact. "Book" your event and apply today!
Launched by country music star Dolly Parton and The Dollywood Foundation, the Imagination Library fosters a love of reading among preschool children by providing them with a free hardcover book every month from birth to the age of five.
Through Spotlight Grants, the Elks National Foundation provides Lodges with the opportunity to sponsor this program, along with six other project plans to shine a light on two important issues facing nearly every American community—family literacy and homelessness among our nation's veterans. These $2,000 grants are available to all Lodges. To find out more about Spotlight Grants and the Community Investments Program, visit enf.elks.org/SpotlightGrant.
---
Back to top