Keep Prom and Carry On
Spring has sprung, and prom season has begun! This time of year, one can find Lodges across the country dusting off their dance halls and busting out their boutonnieres to throw lavish prom events for high school students with disabilities.
Last year, Delano, Calif., Lodge No. 1761 used a Beacon Grant to host its 10th Annual Special Needs Prom for students at Cesar E. Chavez High School and Robert F. Kennedy High School. Their most ambitious prom event yet, the Lodge decorated its hall with the theme "Alice in Wonderland" in mind to take the students down the rabbit hole and into a fun time for all! They worked closely with small businesses in the community to secure donations and discounts for limo services, hair stylists, and tuxedo/dress boutiques to ensure every student felt like kings and queens of all suits. They also catered a delicious spread of BBQ, tri-tips, salad, and punch to keep energy up while the students danced the night away.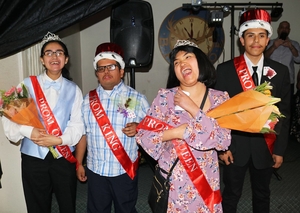 The highlight of the evening was the crowning of the prom kings and queens, which Grants Coordinator Anthony Zaninovich described as "unbelievable."
"The Lodge was very proud and honored to see and experience the joy that this event brought to all those who attended," Zaninovich said.
Well, we're all glad here, too!
To put on your own prom for students with disabilities— or any other population in need— consider applying for a Gratitude Grant or a Beacon Grant. You can also be like Delano, Calif., Lodge No. 1761 and combine both these grants to dedicate up to $5,000 for this event. Send in your grant prom-posal today!
---
Back to top